Make the most of the warm months of summer by throwing an outdoor party for your friends and family. Bask in the gorgeous sunshine with cool cocktails and delicious food straight from the barbecue grill. Planning a perfect outdoor party doesn't necessarily come natural to all of us, but with these handy tips you will be able to throw an impeccable alfresco soiree that will be the talk of the neighborhood.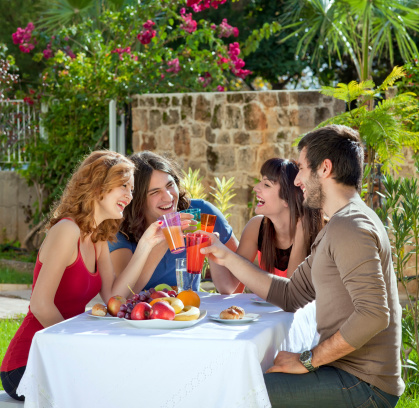 Smile if you love a good tequila sunrise.
Summer Party Drinks
Nothing gets a party going better than a good drink. Whether you decide to stick with the classics such as margaritas and mojitos or whip up a signature drink just for the occasion, a great cocktail will have your guests chatting (or dancing) away in no time. For a laid-back affair, fill up plastic or galvanized metal buckets with ice and add drinks for guests to grab at their leisure. The men will appreciate having easy-access to their beer, and you will have more time to enjoy your efforts.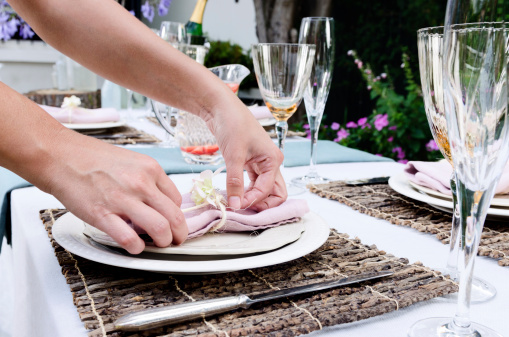 Details such as fresh flowers on your place settings take your party from boring to extraordinary.
Outdoor Feast
Bring the table outdoors and have a sit-down meal with your guests. Eat straight from the barbecue or cook up a few courses ahead of time. Consider a themed menu for the evening such as Moroccan mezze dishes or Spanish tapas for a little extra fun. Put a couple of bottles of wine on the table and spend the evening with good food and good laughs. Your guests will appreciate the effort no matter which direction you choose, and they'll be toasting the night to the perfect hostess you are.

A barbecue is a favorite of all-ages.
Master the Music
Music can instantly determine the mood of an event and will certainly liven up your guests. Choose music that is upbeat and fun to dance to. If you have chosen to serve a themed meal, feel free to make a playlist which represents the evening's fare. Don't play the music too loud; it will ruin the ambiance and annoy the neighbors who weren't invited.
Light the way
Nothing will end a party faster than a pitch dark backyard. Add outdoor lighting to keep the party going long after the sun goes down. Rope lights are terrific for wrapping around tree trunks or lining the deck. Hanging lanterns are a nice way to light up the air and add a shimmering glow to the festivities. Decorate the dinner table and pathways with candles for a truly magical touch.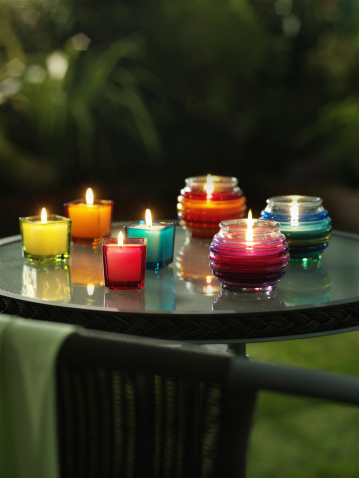 Your guests will be glowing in the candlelight.
Planning the perfect outdoor party is easy with good food, good drinks, and good people. Taking the time to add the little extras will make your party that much more memorable. A word of caution: your guests may be asking you when the next party is before the night is even over.
Jessica Galbraith is an American freelance writer living in the UK. She specializes in expat living and travel writing but she also writes on such topics as daily reputation management and much more.