There's No Place Like Home
Arizona has something for everyone, which is probably why most of us choose to live here: sunshine, great scenery, Western history and multiple cultures.
Our state is also a favorite destination for travelers seeking a reprieve from cold weather in the Midwest and East. It has golf and spring training baseball and some of the best resorts in the U.S. But when was the last time you made Arizona a destination for you or your family? Hopefully this will remind you of treasures in your own backyard as Arizona's Centennial celebration draws near.
Lake Havasu City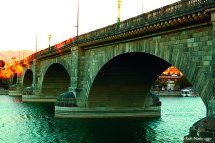 Try counting the number of bricks it took to reconstruct the London Bridge, which spans the Colorado River. Our London Bridge is based on the 1831 London Bridge that crossed the River Thames until it was dismantled in 1967.
The Grand Canyon
Take a trail ride on a burro to the bottom of the Grand Canyon, one of the world's greatest natural wonders. Go out on a ledge — OK, it's horseshoe-shaped — at the Grand Canyon Skywalk. If that makes you nervous and you prefer solid footing, take a ride on the Grand Canyon Railway.
Tombstone/Bisbee
If you have the desire to see ghosts, some are bound to be strolling down the streets of Tombstone, "The Town too Tough to Die." They even conduct nightly ghost tours. If you're curious about the once-flourishing mining industry in Bisbee, you can go on the Queen Mine Tour.
Prescott
Have a cold one at an old-time saloon on Whiskey Row. If you enjoy watching rodeos, 4th of July weekend brings alive the oldest rodeo in the world during Frontier Days.
Route 66
Follow the "Mother Road" from Holbrook to Oatman or vice versa. Stop off at Meteor Crater or stand on a corner in Winslow. The Petrified Forest National Park is a sight to see as well.
Tucson
See and be seen at the semi-annual Fourth Avenue Street Fair. Then there's Mount Lemmon, a winter (skiing) and summer (cabins in Summerhaven) playground. You can also take a tour of the missions in and around the Old Pueblo. In addition, check out a part of American 20th-century history with a visit to the Titan Missile Museum. It's the only publicly accessible Titan II missile site in the U.S. The coolest part of the museum is experiencing a simulated launch.
Flagstaff/Sedona
Ski during the winter or take the Snowbowl Skyride during the summer. Jazz it up in October in Sedona at Jazz on the Rocks. You can also go for an artsy shopping trip at Tlaquepaque, or slip, slide away at Slide Rock State Park.
Sonoita/Patagonia
In the mood for wine? You don't have to travel to Napa Valley or the vineyards of Italy and France. Just jump off I-10 south of Tucson and hit the vineyards of Elgin, Patagonia and Sonoita.