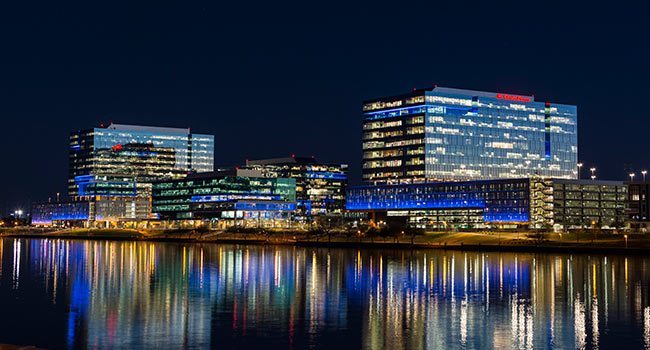 Ryan Companies and Sunbelt Holdings, co-developers of Marina Heights, completed construction of the project's fifth and final office building and have turned over occupancy to State Farm at the 20-acre development on Tempe Town Lake.
"It was the teamwork of State Farm, Sunbelt, Ryan Companies, the city of Tempe, ASU and the unwavering support of the Tempe community that made it happen," said John Graham, CEO of Sunbelt Holdings.
The State Farm Regional Hub, designed by DAVIS, is a LEED Silver inspired design concept featuring five monolithic glass and stainless steel office towers, four highly interactive retail spaces, and a two-level below grade parking garage.
"A significant partnership with the City of Tempe and Arizona State University was formed to expedite construction and meet the tenant's needs for recent college graduates and customized programs," said John Strittmatter, chairman of Ryan Companies' Southwest region. "We are extremely proud to have achieved this terrific milestone safely – and ahead of schedule."
The Marina Heights construction team reached over 3.8 million safe hours without a time loss incident during the construction of the five buildings.
Each tower of Marina Heights was designed for unique tenant and visitor experiences:
Building 300, the westernmost podium office tower, is oriented to focus internally to the campus and offers panoramic views of the entire Tempe lakefront. In addition to amenities found in all of the towers, Building 300 includes Starbucks and a Mountainside Fitness.
Building 400 was designed as the primary forum for public interaction and features a sculpture, Stream, created by Spanish sculptor Juanjo Novella. Matt's Big Breakfast is located in Building 400 and is open to the public.
Building 450's glass grand staircase that features a suspended artwork of "1000 Cranes," a sculpture created by local artist, John Tuomisto-Bell, which is visible to the public along the linear park promenade. An HonorHealth facility is located on the east side of building 450, with twelve exam rooms, five medical offices, a conference room, an x-ray room with fully lead-lined walls, a treadmill room, and an audio booth.
Building 500 is a nine story office tower and was the first building completed at the campus. The building also includes a 1,500-square-foot retail market called Outtakes.
Building 600, the final Marina Heights office tower to be completed, has the most floors of any building on campus, consisting of ten floors of office (450,000 RSF) on top of a 7-story podium parking garage with over 2,000 parking stalls. Building 600 features a 23 foot cantilevered balcony overlooking Tempe Town Lake, a balcony on the south side with views of Sun Devil Stadium, two future retail spaces that will provide more amenities for employees and the public, as well as Theater of the Wind, a sculpture created by internationally-recognized artist Ilan Averbuck.
Buildings 300, 400 and 450 were recently honored with the Office Project of the Year RED (Real Estate and Development) Award, presented by AZRE Magazine, and Best of NAIOP's Office Build To Suit project of the Year.
Comments