Intel announced a $20 billion investment to build two new semiconductor fabrication facilities.
Here's why Arizona earned Gold Shovel Award for high-quality job creation
Arizona today was awarded a prestigious "Gold Shovel" award from Area Development Magazine, the state's second consecutive year taking gold for the 5-8 million population category. The Shovel Awards recognize states that "garnered large job-creating and investment projects through innovative policies, infrastructure improvements, and other processes" in 2021.
In addition, Area Development named Intel's $20 billion expansion in Chandler one of ten "Manufacturing Projects of the Year." Intel broke ground in September on two new semiconductor fabs in Chandler. The factories are expected to be operational in 2024 and create more than 3,000 jobs.
---
READ ALSO: 25 tech startups to watch in Metro Phoenix
---
Since 2007, Arizona has won four gold shovel and six silver shovel awards. Arizona's four gold shovels were awarded all in the past six years.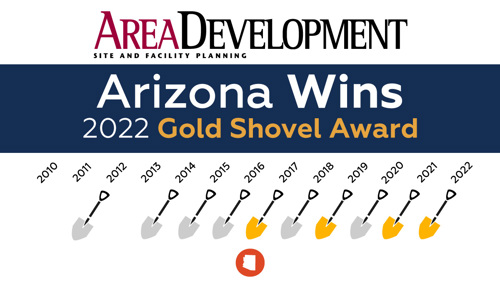 "Arizona continuously leads the way in the creation of high-quality jobs," said Governor Doug Ducey. "Whether it's semiconductors, electric vehicles, batteries–you name it–Arizona has become an epicenter of innovation. This award is a reflection of the ingenuity and perseverance of Arizona's entrepreneurs and workers, and we are proud to continually be recognized as a top state for economic development."
"Intel is grateful to be named a 'Manufacturing Project of the Year' for the $20 billion expansion at our Ocotillo campus in Chandler," said Keyvan Esfarjani, Executive Vice President, Chief Global Operations Officer and General Manager of Manufacturing, Supply Chain and Operations at Intel Corporation. "Arizona has been integral to Intel's growth for the past 40 years. Intel continues to be committed to investing in Arizona talent, capacity expansion, environmental sustainability, and supporting the community. We look forward to our two new factories coming online, which will manufacture our most advanced technologies, and thank the State of Arizona and City of Chandler for their continued support."
"We're honored Arizona has been recognized with a Gold Shovel award for the second consecutive year," said Sandra Watson, President & CEO of the Arizona Commerce Authority. "Last year, Arizona set records for economic development, with more projected jobs and capital investment announced than ever before. We work closely with our regional and local partners across the state, and I want to congratulate all of them as well as our incredible industry partners on this honor."
"Intel's latest multi-billion-dollar expansion in Chandler is creating economic ripple effects throughout our city, region, and state," said Chandler Mayor Kevin Hartke. "We are proud of the strong partnership we have built with Intel over many decades and would like to congratulate them on this well-deserved national recognition."
Area Development Magazine ranks states with weighted scores based on the number of high-valued added jobs per capita, amount of investment, number of new facilities, and industry diversity.
Arizona saw economic development wins across the state in 2021, landing electric vehicle, battery, aerospace and renewable energy projects.
In addition to Intel, the 2021 projects include:
• Li-Cycle, a battery recycling company based in Canada, announced plans to build a lithium-ion battery recycling facility in Gilbert, its third facility in the U.S.
• HelloFresh announced plans to open its largest shipping and distribution center globally in Phoenix, creating over 1,000 new jobs.
• ElectraMeccanica, a Canadian electric vehicle manufacturer, broke ground on its first U.S.-based assembly facility and engineering technical facility in Mesa, investing over $35 million and creating nearly 500 new jobs.
• KORE Power, a battery manufacturer based in Idaho, announced plans to build a 1-million-square-foot lithium-ion battery manufacturing facility in Buckeye, resulting in 3,000 new jobs.
• Zep, Inc. announced the completion of its new AFCO production facility in Kingman, creating 25 jobs.
• Owens Corning announced plans to restart production at its 42,500-square-foot insulation manufacturing facility in Eloy, creating over 50 jobs.
• Facebook announced in August an investment of $800 million to build a sustainable 960,000-square-foot data center in Mesa, creating 100 jobs.
• UACJ Whitehall, a manufacturer of parts for electric vehicles, announced a new manufacturing facility in Flagstaff, creating 350 new jobs.
• Gulfstream Aerospace is investing over $70 million to build its sustainable 225,000-square-foot aircraft maintenance, repair and overhaul facility located at Phoenix-Mesa Gateway Airport, creating hundreds of jobs.
• Leonardo Electronics U.S. Inc announced an expansion of its semiconductor laser manufacturing facility in Oro Valley, creating 200 jobs.
• ZenniHome announced plans to manufacture eco-friendly homes on a former Navajo Generating Station site in Page, creating 150 jobs.
• Meyer Burger, a Swiss-based company, announced it is building a solar module manufacturing facility in Goodyear, its first facility in the U.S., creating over 500 jobs.
According to the Office of Economic Opportunity (OEO), Arizona will add over 720,000 jobs by 2030 for an annualized job growth rate of 2.2% – three times the U.S. growth rate.
A report on the 2022 Shovel Award winners is published in the Q2/2022 issue of Area Development and posted online at areadevelopment.com/shovels.