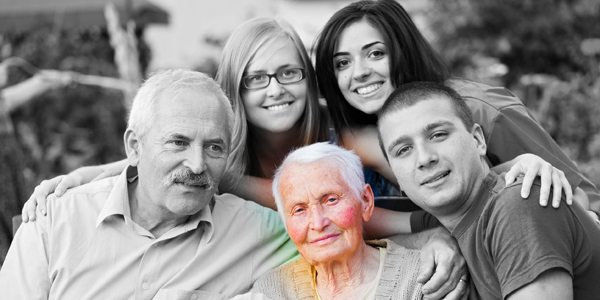 The Banner Alzheimer's Foundation has been awarded a $5 million grant on behalf of several Arizona-based research institutions to develop an unprecedented public resource of molecular data to help advance the scientific understanding, treatment and prevention of Alzheimer's disease.
The research project is a collaborative effort between the Banner Alzheimer's Institute, Banner Sun Health Research Institute, the Translational Genomics Research Institute (TGen), the Arizona State University-Banner Neurodegenerative Disease Research Center at the Biodesign Institute, and the Arizona Alzheimer's Consortium. It also includes researchers from the Icahn School of Medicine at Mount Sinai.
The partners predict that the data set resulting from this project will become one of the most widely used and highly valued scientific resources in the fight against Alzheimer's disease.
The grant funding comes from the NOMIS Foundation, a private Swiss foundation supporting insight-driven scientific endeavors across all disciplines. Established in 2008 in Zurich, the NOMIS Foundation seeks to "create a spark" in the world of science by funding highly innovative, groundbreaking research in the natural sciences, social sciences and the humanities.
In this four-year project, funds will be used to develop a public resource of detailed gene expression data from human brain cells and regions that differ in the vulnerability or resilience to Alzheimer's disease, and help to galvanize discovery of disease mechanisms, risk factors and treatments. The project will capitalize on high-quality brain tissue from 100 brain donors with and without Alzheimer's. The brain samples are made available through the Banner Sun Health Research Institute's Brain and Body Donation Program, a world-leading resource of data and brain samples for the fight against Alzheimer's disease, Parkinson's disease and other cognitive changes associated with normal aging.
The project also capitalizes on the isolation of different types of brain cells, the detailed sequencing of the genes that are expressed in these brain cells, and the detailed sequencing of each of the brain donor's inherited genes at TGen.
Researchers at Arizona State University will capitalize on emerging data analysis tools to interrogate and make sense of these large data sets, discover those molecular networks that seem to be involved in vulnerability or resilience to different forms of Alzheimer's pathology, and identify molecular targets at which to aim new treatments. The ASU-Banner Neurodegenerative Disease Research Center will then capitalize on the push-pull relationship between this potentially transformational data set, other human data sets, and experimental studies in mouse, cellular and other laboratory models at ASU to discover new Alzheimer's disease mechanisms and treatments. Indeed, this push-pull relationship between human brain data and basic science is intended to become a defining feature of this recently established and growing Center.
"There is an urgent need to clarify the brain processes involved in the development of Alzheimer's disease and use this information to discover effective ways to treat and prevent the disease," says Dr. Eric Reiman, who serves as executive director of the Banner Alzheimer's Institute, CEO of Banner Research, director of the Arizona Alzheimer's Consortium, and is a faculty member at ASU, TGen, and the University of Arizona. Dr. Reiman is spearheading the collaboration. "While studies in animal, cellular and other laboratory models play essential roles in this endeavor, detailed molecular data from persons with and without Alzheimer's are needed to further inform these experimental studies and clarify the extent to which findings are relevant to this fundamentally human disease."
Reiman believes the grant and resulting data will help attract future investment from the National Institutes of Health to support further expansion of the human data set. "This funding provides the foundation to build one of the largest basic and translational neuroscience programs for the fight against Alzheimer's and related neurodegenerative diseases," says Reiman.
The project is led by Reiman, Dr. Winnie S. Liang of TGen, Dr. Thomas G. Beach of the Arizona Alzheimer's Consortium, and Dr. Ben Readhead and Dr. Joel Dudley of the ASU-Banner Neurodegenerative Disease Research Center and Icahn Schoool of Medicine at Mt. Sinai.
"Performing a comprehensive and cell-specific characterization of Alzheimer's disease is key to clarifying the cellular and molecular complexity of this debilitating disease. In doing so, we hope to simultaneously identify new therapeutic targets and to also generate a public resource to drive continued discoveries in Alzheimer's and aging research," says Dr. Liang, TGen Assistant Professor, Director of TGen Scientific Operations and Director of TGen's Collaborative Sequencing Center.
Dr. Dudley adds, "Rapid advances in computational biology and artificial intelligence enable us to ask powerful new questions about human health and disease. This project will enable us to generate an unprecedented quality and depth of data, which will allow us to leverage the latest computational techniques to shed new light on the complexity of Alzheimer's disease."