Boutique Hopping: Madewell Boutique
With all the fashion-forward clothing shops popping up in town, I will be bringing you reviews of a sampling of the best boutiques Scottsdale has to offer. This week, we stopped by Madewell Boutique.
First Impressions: Madewell
My first impressions usually include what I see and feel when I get inside the door of a boutique, but Madewell caught my eye far before I walked inside. This boutique has its own hold on creative décor, and I was a fast fan. The displays inside the store are unique, with jars of chalk, endearing vintage clocks, and oversized spools of thread splayed around strategically and invitingly. The signage out front is both adorable and eye-catching, and as soon as I walked inside, I was warmly greeted. The associate who helped me was very genuine, asked my name and offered to help me. All in all, Madewell won me over within seconds.
Clothing Analysis
The clothes at Madewell will make you feel like you just came into a room full of all your best friends. Their clothes are soft and cozy to the touch and tailored to flatter a variety of figures. The set-up inside the boutique is comfortable and cute, and you'll be drawn to explore the multitude of high-quality clothes displayed before your eyes.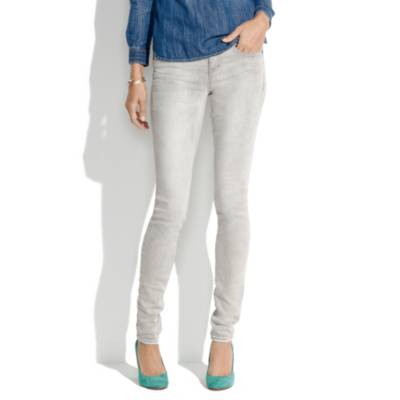 The denim bar was one of my favorite areas, with jeans in various colors and styles. Madewell's "skinny skinny" jeans are set up side-by-side so you scan the selection and quickly decide what suits your fancy. Their section full of "happy socks" made me smile, and their sale items were clearly marked throughout the store — another reason for me to smile.

Madewell has an expansive selection of everything you could want or need, including pants, tops, dresses, sweaters, shoes, bags, jewelry and even undergarments. The styles are varied, but each piece is trend-friendly and well constructed.
As far as prices are concerned, Madewell is one of the few boutiques that hits the mark of fair pricing. Boots, jeans, and some of the dresses are above $100, but one touch of its material is enough to know these pieces will last you a long time. I can fully understand why they chose the name "Madewell" — everything in the store really is. You can find fitted T-shirts for less than $20, and I can truly say that all of the items I saw seemed reasonably priced.

Tidbits and Takeaways
If you want some fashionable finds at very affordable prices, I urge you — go to Madewell! I don't think their styles are necessarily the most unique out there, but they are consistent, charming and fashionably on-point. You will appreciate the "homey" feel of the store and excellent customer service, and you are sure to fall in love with all the en vogue wardrobe finds.
The location I referenced:
Madewell in Scottsdale Fashion Square
7014 E. Camelback, Scottsdale; Level 1: 1B
(480) 946-3641
madewell.com
Facebook