From accountant to curator, from the cubicle to international flights — when Tim Harris of Relics Architectural Home & Garden in Phoenix gets restless and craves change, he does more than enlist a new hobby. He switches careers.
"We wanted to have more independence, a creative outlet and a chance to travel," Harris says. Thus, Relics was born from a love of antiques, culture and travel by Todd Zillweger and Harris.
And, 10 years later, Relics continues to thrive as a 12,000-square-foot showroom of European architectural salvage and garden antiques.
Five to six times a year, Harris and Zillweger travel to Europe, collecting antiquities from auctions, country fairs, private individuals dealing from their homes, and shops in the cities — snapping photos of every item along the way.
"We started out traveling to Europe about four times a year, then five times, then a couple years at six times a year — every two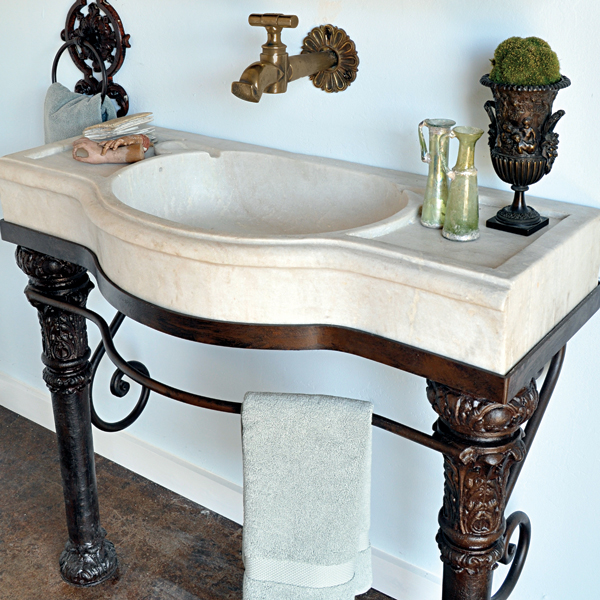 months," Harris says. "We were at a point where we had to expand to keep up.
"In the beginning, we would fill a 40-foot container from maybe two or three vendors," he adds. "Now, we might fill a container with probably 30 different stops. We're on the road for maybe 10 to 12 hours a day."
Harris adds that their need for expansion was due to their ability to carefully hand-select the best pieces for their clients.
"The reason why we succeeded and continued to succeed, even through the recession, is we've always been prudent about our
choices," Harris says. "We always think about things carefully. That's really been a key and a factor of our success.
"We try to be sensitive to selecting things that we think will appeal to a broad audience, but then again, what we do is very specialized," he adds. "Not everybody wants an antique chandelier or antique armoire. It's a smaller market, so we just try to educate our clients to understand why things cost more and what can you compare it to."
But Zillweger and Harris don't just have an eye for discovering and selecting timeless and salvageable antiques, including limestone wall fountains, fountain spouts and faucets, sinks, chandeliers, religious
artifacts and decorative ironwork, the showroom itself is a clean and organized work of art — one that customers have compared to a museum, according to Harris.
Relics' customers are comprised of Paradise Valley and Scottsdale residents and designers, with about half of its customers from out-of-state. This out-of-state customer base has lead Zillweger and Harris to put more work into Relics' website, keeping its inventory up-to-date. Relics even has its own in-house photography studio where every item is photographed for the website.
"We realize how much business the website is generating, and we launched a new website this spring," Harris says. "But it's important when somebody is not here, and you're trying to help them make their buying decisions by a photo and data that you provide. I find that most often people will see our advertising somewhere out of state, then they'll visit Arizona so they can stop here and identify with who we are and what we do. Then there's a trust that's developed. After that, they'll feel comfortable buying directly from the website."
Items that have become popular among out-of-state customers? Relics' custom sinks.
"We'll buy antique marble basin, and I'll work with my blacksmith, and we'll fabricate custom sinks," Harris says. "They're big sellers; we sell a lot of them to Californians and Texans."
To kick off its 10 years in business, consisting of traveling, building relationships abroad, repurposing and restoring items and sharing the stories of the antiques with their customers, both in and out of state, Relics not only welcomed its 50th container, which arrived last week, but it will also host events beginning January. The events will include a monthly salon series where speakers such as landscape architects and builders will cover a variety of topics through the spring.
For more information about Relics Architects Home & Garden and its events, visit relicsaz.com.
Relics Architects Home & Garden
Where: 839 E. Camelback Rd., Phoenix
Contact: (602) 265-7354
Online: relicsaz.com
Facebook | Twitter