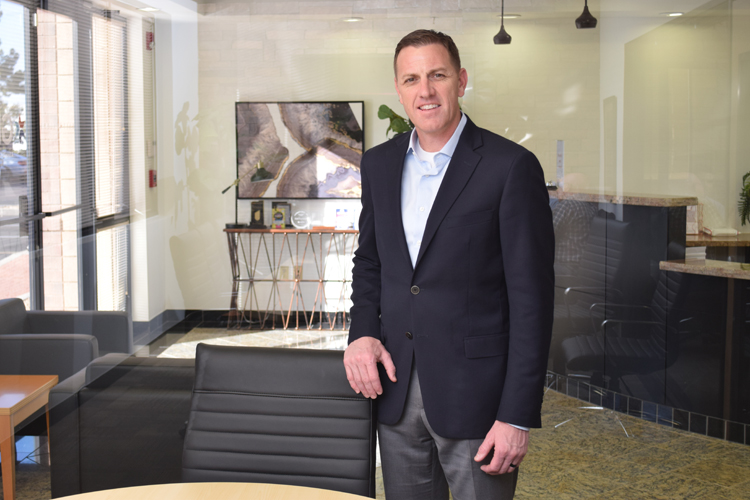 Denny Barney, a sixth-generation Arizonan and PHX East Valley resident, was born to lead the East Valley Partnership.
"It's very personal to me," says Barney, who took over as president and CEO of East Valley Partnership on June 1. "I was born and raised here. I've lived on the East Coast, the West Coast, overseas, but I'm back here because this is where I want to raise my family. Ultimately, I want to make sure that when my kids are entering the workforce, there are the right kinds of jobs waiting for them if they choose to stay here. It's important to attract those 21st Century jobs so our economy can continue to grow."
The East Valley Partnership was formed 35 years ago as a cooperative effort among the communities of the PHX East Valley region.  Since then, the region has experienced exponential population growth and added thousands of new jobs. Today, the PHX East Valley boasts a combined population of 1.3 million in the cities and towns of Apache Junction, Chandler, Fountain Hills, Gilbert, Mesa, Queen Creek, Tempe and Gila River Indian and Salt River Pima-Maricopa Indian Communities. Because of its talented and highly educated workforce and favorable quality of life, the area also continues to be a magnet for new businesses and entrepreneurial ventures, particularly in industries such as aerospace and aviation, technology, financial services and healthcare.
"The Partnership has played an indelible role in the growth and development of the PHX East Valley," says Barney, who represents District 1 on the Maricopa County Board of Supervisors and is also principal of Arcus Private Capital Solutions, a specialized realty investment and finance company. "I love the organization's specific focus on quality of life, economic development and the issues that are so important to me."
Az Business talked with Barney to get his take on where the PHX East Valley is today and where he sees it going tomorrow.
Az Business: How do you view the business climate today in the PHX East Valley?
Denny Barney: They called the 1920s the "Roaring '20s." It seems now we are heading into the "Roaring 2020s." There's such an emergence of all these great things as our economy has transformed. We used to be very consumption based, but there's been a migration away from those types of jobs. You're seeing a movement toward the types of jobs that are more sustainable across the economic cycles and the PHX East Valley has been at the epicenter for much of that growth as it relates to advanced manufacturing, FinTech, emerging technologies, bioscience and things we think will create a more sustainable economy. From an infrastructure standpoint, a workforce standpoint, housing availability, space and transportation, the PHX East Valley was positioned with all those things in place and was ready to invite those types of companies in.
AB: Why has the PHX East Valley become such a hotbed for innovation?
DB: We talk about technology in the East Valley like it's a new thing, but Intel moved here 40 years ago and has invested $30 billion in its campus here. Motorola was deeply entrenched in our market. Boeing has quietly been in Mesa for decades with 3,000 employees creating some of the finest technology used by armed forces around the world. For those of us who have been here for a long time, we've been wondering when the light was going to go on and there would be recognition of the innovation that has been happening in the PHX East Valley. It was going to happen and now it's like a self-fulfilling prophecy. So when you look at the demography of the East Valley and the skilled workforce, you see that things are finally hitting on all cylinders.
AB: Did having companies in place like Intel and Boeing help attract those other companies that have sparked the technology explosion in the East Valley?
DB: It articulates the value proposition. If you're on the board of directors of a company that is looking to move, you have to look at the value created by making that move. To have significant companies in place helps tell the story in a way that makes it easier for others to consider making that decision to move to the PHX East Valley.
AB: What's the appeal of the East Valley?
DB: Originally, companies came here because of affordable land, affordable housing for their employees, good schools, good transportation infrastructure and an available workforce. But it's more than that. We have a stable regulatory environment that you won't find with our neighbor to the west. We all love California, but we don't want to run our businesses there and a lot of people are figuring that out. And for all the rhetoric you hear, we have a stable tax environment that allows people to come in and scale a business.
AB: In what sectors has the PHX East Valley become a game-changer in technology?
DB: We did a forum on disruptive industries and Gilbert-based Offerpad was one of the panelists. They talked about how they are reshaping the way people transact their single-biggest financial asset — their home. Those types of disruptions are going to continue and we see it in how we — as a culture — interface with our financial institutions. It's dramatically different today from what it was just 36 months ago. If you don't have a good app on your phone to do your banking, you switch banks. So if you look at FinTech — and that's a big buzzword in the jobs arena — the PHX East Valley has become a hotbed for FinTech. If you look at autonomous vehicles, we have become Ground Zero for autonomous vehicle testing. From all that innovation, you get secondary and tertiary jobs where people are feeding into these growing industries. Every industry in which you are seeing mass disruption is represented in the PHX East Valley. We cannot even comprehend the breadth and depth of the impact today, but when we look back in four or five years, we will say, "Wow, look what happened."
AB: How much does the fact that Arizona State University calls the PHX East Valley home play into the region's ability to innovate?
DB: You cannot have the right kind of workforce without the right types of educational platforms. ASU has gone from being the No. 1 party school two decades ago to today being the No. 1 most-innovative university for several years in a row. But it's not just having a great university like ASU. We have great community colleges, great K-12 districts that all wrap up into preparing the workforce needed to meet the needs of the new-economy type jobs. We want those new-generation jobs that will allow us to be more insulated to the historical ups and downs — the boom-bust — of the economy. The truth is, the trajectory has shifted and ASU and other education institutions have helped us stay ahead of that trajectory.
AB: What are some of the other disruptors or game-changers you see coming from the PHX East Valley?
DB: Remember what the north side of ASU looked like before Tempe Town Lake? It was a dry riverbed. Then, you had some leaders who said, "We can do better." Now that area that was once a "no man's land" is a vibrant jobs center. You have other little pockets like that in the PHX East Valley that are changing the game. In Tempe, you have the new I.D.E.A. Tempe, which is focused on bringing new biotechnology and technology companies to Tempe. Mesa is working on its own innovation district that is focused on catapulting some of these high-tech industries that are landing here and putting them into space to build around its emerging ASU campus. You have Gilbert working with Deloitte — one of the biggest companies in the world — to create one of their global centers of excellence. And the only challenge we are facing along the Loop 101 — the Tech Corridor — is that we are running out of space. So it's pushing development further south and out toward Phoenix-Mesa Gateway Airport. So what we see now as separated pockets will eventually blend together because of availability of real estate resources.
AB: What trend should should we be watching in the next year?
DB: It's all about jobs and creating the right kinds of jobs that will move our economy forward in a sustainable way. If you look at jobs reports from the past, about 25 percent of new jobs created were companies that were new to the market and the other 75 percent came from companies that were already here. For the first half of 2018, it was almost opposite. Almost 80 percent of the new jobs created came from companies that were new to the market. That's going to change the complexity of the region as we bring in new people and new opportunities. Our push is to continue to get our share of those new jobs, get people to grow their businesses here if they're already here, move their businesses here if they're not, move their families here or start their families here, and capitalize on the positive energy that defines the PHX East Valley.
AB: How is East Valley Partnership helping the region prepare for its next stage of development?
DB: We are not the Chamber of Commerce. We are not GPEC. We are kind of positioned in between, where we are beating the drum day in and day out telling people why this is a great place to do business and what you are missing out on. That story needs to be told. Maricopa County is competing against a lot of great communities, but we have a unique value proposition that people need to hear about. In order to have quality of life, you need a few components — we are blessed with beautiful blue skies and sunshine, but you also need to have good transportation infrastructure, good healthcare delivery, and you have to have solid education systems to educate everyone from P-12 through higher education. We have all those things. The goal of the partnership is to make sure we are positioning the region in a way that when people are looking for opportunities — across all economic cycles — they don't forget to consider us.
AB: How do you see the PHX East Valley 10 years from now?
DB: Historically, the PHX East Valley has been very suburban. We are going to see more evolution toward urban cores that are part of the suburban model. There is a certain segment of the population that wants to be close to where they work, so we are going to see an evolution that will change some of our communities' dynamics like we've seen in Tempe. Queen Creek and Apache Junction are going to continue to fill in and grow. Each of our communities are investing in infrastructure in unique and different ways that will elevate their missions. I don't think we are going to be flying around in cars like "The Jetsons," but I think we'll be riding around in cars that don't have drivers. We have seas and seas of parking lots that may become less important. So what is currently critical infrastructure could become adaptive re-use space 10 years from now.