Complete with celebratory noisemakers, a Mardi Gras theme, lots of cheering and a room filled with the most innovative and game-changing business leaders in Arizona, a sold-out crowd packed Chateau Luxe in Phoenix on Thursday, Oct. 5, 2023 to celebrate Arizona's Most Admired Companies of 2023.
---
EARN RECOGNITION: Nominate today for the 2024 Champions of Change Awards
---
"We had the most nominations ever for Arizona's Most Admired Companies this year, and tonight we are celebrating the best of the best: 50 of the most dynamic and inspiring companies in Arizona," said Amy Lindsey, publisher of AZ Big Media, which publishes Az Business magazine. "To be called a Most Admired Company, a business must demonstrate excellence in its leadership; corporate culture; innovation; customer relations; community engagement; and diversity, equity, and inclusion efforts and initiatives."
The most Admired Companies program was co-founded in 2010 by AZ Big Media and BestCompaniesAZ.
Sponsors who helped make the celebration possible included presenting sponsor, USAA, which also provided spirit boxes on every table; premier sponsors Paragon IT Professionals, Northern Trust and WillScot Mobile Mini; spotlight award sponsor OneAZ Credit Union; step-and-repeat sponsor FirstBank; centerpiece sponsor CHASSE Building Team; beverage sponsor Willmeng; dessert sponsor Suntec Concrete; production sponsor Merestone; floral provider was PJs Flowers; the designer and provider of the spotlight awards was Stowebridge; and the signature sponsor was Balani Custom Clothiers.
Among the highlights of the night was the announcement from Habitat for Humanity Central Arizona, one of Arizona's Most Admired Companies of 2023, that it was partnering with Az Business magazine, an AZ BIG Media publication, to announce the "Let's Give Arizona a Hand Up" campaign. Learn more about the program here.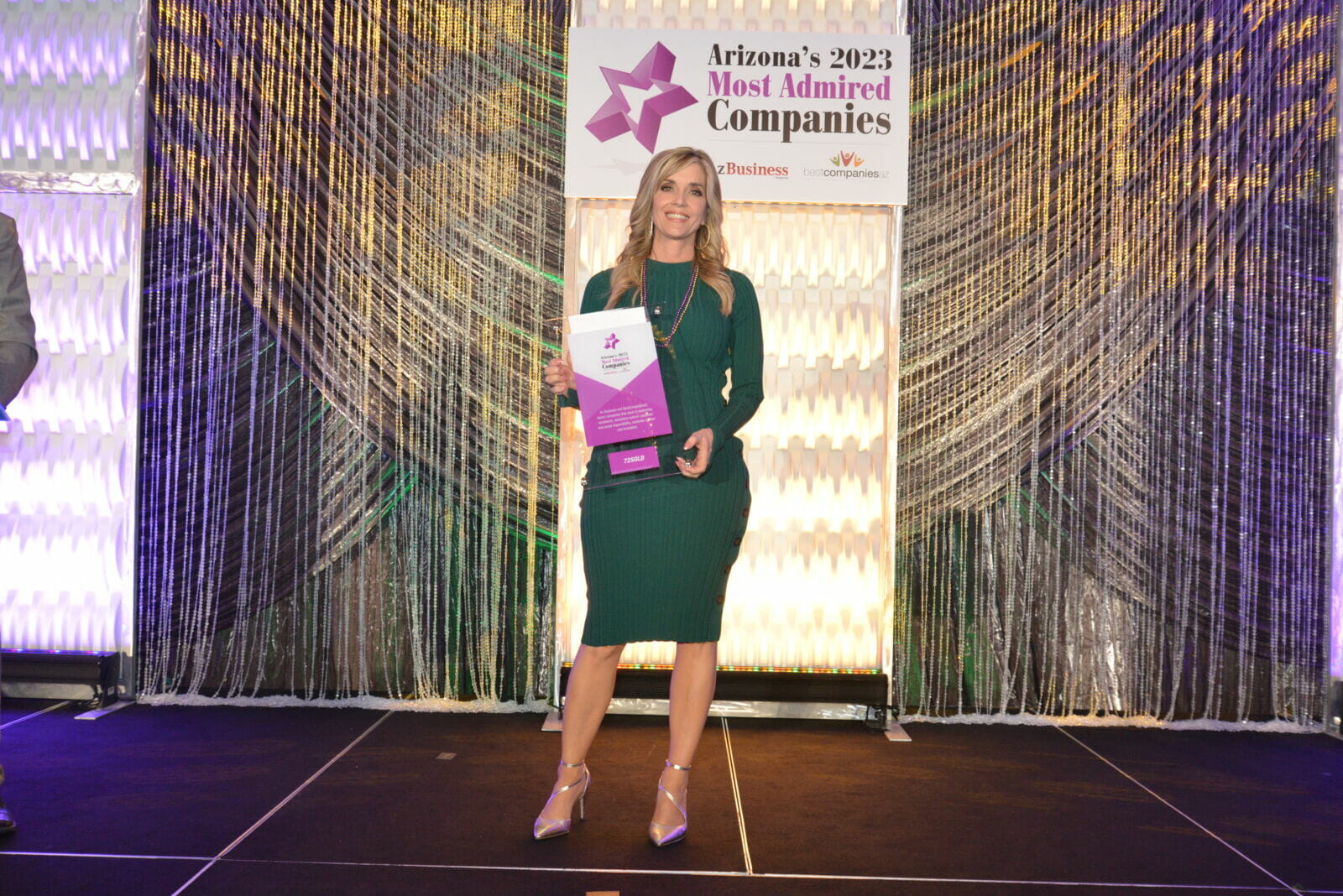 Most Admired Companies spotlight award winners
Spotlight award for innovation: StrataTech Education Group
Spotlight award for customer opinion: CopperPoint Insurance Companies
Spotlight award for leadership excellence: Desert Financial Credit Union
Spotlight award for workplace culture: Achieve
Spotlight award for social responsibility: Salt River Project
USAA Spotlight award for leaders in culture: Lovitt & Touché, a Marsh & McLennan Agency, LLC Company

Most Admired Companies of 2023
72SOLD
Axon
Blue Cross Blue Shield of Arizona
Canyon State Electric
Circle the City
Clayco
Colliers in Arizona
CopperPoint Insurance Companies
Corbins
Cresa
DP Electric
Frazer Ryan Goldberg & Arnold
Greenberg Traurig
Habitat for Humanity Central Arizona
JE Dunn Construction
KUBRA
Lovitt & Touché, A Marsh & McLennan Agency LLC Company
Mark-Taylor Residential
Northern Trust
P.B. Bell
Quarles
Qwick
RPG Brands
Salt River Project
Terros Health
The James Agency
U-Haul International, Inc.
Voya Financial
WillScot Mobile Mini