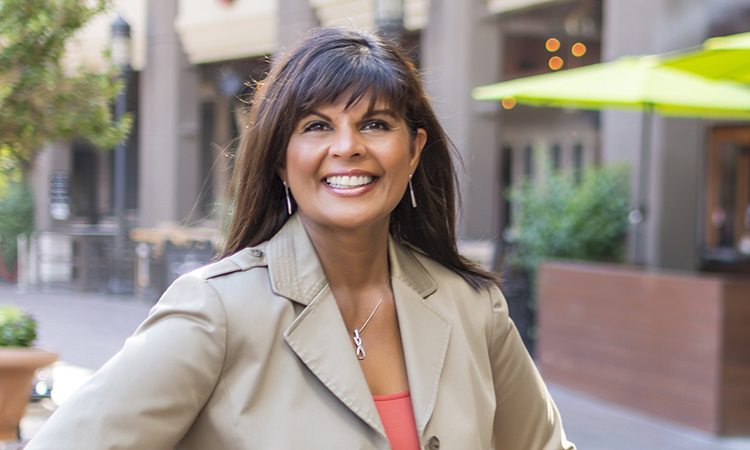 WESTMARC presented its 25th Best of the West Awards Thursday at Universoty of Phoemnix Stadium.
The Best of the West Awards competition began in 1993 as a way to recognize outstanding contributions to the image, lifestyle and economic development of the West Valley. Awards are presented in the categories of Economic Engine, Quality of Life within the Community and Education, and Excellence in Innovation. In addition to these three awards, WESTMARC also presented the West Valley Regional Advancement Award, Inspiration in Leadership and President's Choice.
West Valley Inspiration in Leadership Award Award Recipient: Joe La Rue, Sun Health
Joe La Rue is Executive Vice President of Sun Health, a local nonprofit organization that champions healthy living, research and superior healthcare through community partnerships that create, develop and foster superior living, learning and working environments.
Joe is responsible for managing the real estate portfolio for Sun Health, including, overall campus master planning and development. This includes managing the development of Sun Health's three Continuing Care Retirement Communities in Northwest Phoenix.
Joe was appointed to the State Transportation Board to represent Maricopa County in March 2012, and currently serves as the Past-Chairman. He is a former member of the Maricopa County Transportation Advisory Board, representing Supervisory District 4. Joe is a past member of the WESTMARC Board Directors. In addition, Joe served a four-year term on the Peoria City Council from 1997-2001.
West Valley Regional Advancement Award Award Recipient: John Graham, Sunbelt Holdings
John Graham joined Sunbelt Holdings in 1982 and became President in 1990. John's background in asset management, development and real estate investment provides a solid foundation of knowledge and experience in the real estate field. Under John's direction Sunbelt Holdings has become a dominant force, in both community affairs and real estate activities. John's prior experience included The Koll Company in asset management and development from 1980- 1982 and Coldwell Banker in asset management and sales from 1978-1980.
WESTMARC President's Choice
Award Recipient: Mike Hoover, City of Surprise
Mike Hoover has been with the Surprise Economic Development Department since February 2008. His primary focus includes industrial and office recruitment for the Surprise employment districts. He works closely with the Greater Phoenix Economic Council and other regional organizations to bring quality employers to the City of Surprise.
Mike holds a Bachelor's in Global Business from Arizona State University-West. His main emphasis was in Marketing. Before Mike enrolled at ASU, he spent two years attending college in Nebraska on a golf scholarship.
Mike's exposure to large high-tech employers and over 10 years' experience in marketing position him to be a key contributor to the future Economic Development in Surprise.
West Valley Economic Engine Award
The Economic Engine Award recognizes individuals, organizations, businesses, facilities, or programs which have created a significant economic impact for the West Valley. Nominees are
not judged only by the sheer size of the nomination's impact; critical factors of a nomination may include the economic effect in proportion to the size of nominee to the population nominee serves, the adversity which faced the nomination, the ingenuity of the nomination.
Economic Engine Award WINNER: PV | 303 Business Park
The PV|303 Business Park is a 1,600-acre master planned business park located near the confluence of Interstate 10 and Loop 303 in Goodyear. PV|303 is the home of world-class businesses like Sub-Zero, Dicks Sporting Goods and REI. In 2017, PV|303 announced the location of three additional businesses, which will create nearly 2,000 jobs in office, manufacturing and logistics sectors, as well as invest nearly half a billion dollars in the West Valley. Those businesses include a corporate office and logistics operation for international grocer Aldi Incorporated; a technologically advanced manufacturing plant for Ball Corporation; and a regional hub for United Parcel Service (UPS).
Private and public-sector organizations have worked together to ensure the success of PV|303. Sunbelt Holdings (owner and developer), Merit Partners (industrial development partner), and the City of Goodyear work in concert to attract new businesses to the park. The Agua Fria and Litchfield Park School Districts have shown great support for the Greater Maricopa Foreign Trade Zone (GMFTZ), a vital tool in attracting development to the park. This has enabled low tax revenue- generating land classified as agricultural to be transformed into land that has attracted investment generating thousands more in tax revenue. Partnership with water, sewer and power entities (EPCOR, Liberty Utilities, APS) has also been essential toward development.
Infrastructure is one of the biggest challenges facing development in the West Valley. PV|303, the City of Goodyear, and utility companies have collaborated to lay the foundation needed to attract development. Challenges met include bringing a major water line and a high-pressure natural gas line from miles away as well as moving a 230KV power pole to accommodate development.
The city and developer have also found ways to partner on infrastructure and process improvements needed to advance development at PV|303. An example of this is both private and public-sector teams working to get businesses from the initial proposal to a certificate of occupancy on new construction in less than nine months.
PV|303 is a premier business park in the southwestern United States. No other single business park in the West Valley has announced as much job growth and capital investment in 2017 as the PV|303 Business Park.
West Valley Quality of Life Enhancement Award
The Quality of Life Enhancement Award was developed to recognize individuals, organizations, businesses, facilities or programs which have enhanced the quality of life for West Valley residents.
Quality of Life Enhancement Award in the Community
WINNER: Tri-City West Thornwood Branch of the Boys & Girls Club of Metro Phoenix
Caring adults + a safe environment + youth and teens = the Tri-City West Club (TCW) of the Boys & Girls Clubs of Metro Phoenix. Welcoming kids from Avondale, Litchfield Park, Goodyear and Buckeye, the TCW Club enhances community life with after school and summer programs focused upon academic excellence, healthy lifestyle choices, good character development and job readiness. Club members interact with each other and staff in an environment that encourages personal development, inspires dreams and builds friendships. Physical health is enhanced while playing in the gym and enjoying daily nutritious hot meals and healthy snacks. Our prevention and leadership programs help youth make positive choices that lead to successful futures.
TCW kids represent a vulnerable population that struggles with numerous challenges, i.e. generational poverty, disparate literacy levels and other factors. The harsh economic reality is that 53% live at or below the Federal Poverty Level; an additional 19% are struggling financially at an FPL between 100- 150%. The TCW Club offers a safe and nurturing environment for kids to learn, grow and explore their options. Our programs are crucial for West Valley kids facing challenging life situations and in many instances, lack of structure, companionship and stimulating afterschool activities. The value of our programs is that the Club teaches them that these are neither the issues that define them nor have an impact upon who they can become.
The TCW Club has developed remarkable partnerships with Avondale's Mayor's Office, the Neighborhood & Family Services department and the Parks & Recreation department. Additionally, we have active partnerships with Estrella Mountain Community College, six Avondale elementary schools, two high schools and numerous charter schools. We have great respect for and appreciate the involvement from local police and fire departments. Our "sports connections" are strong and include the American Sports Center, the Cincinnati Reds and the Cleveland Indians. We work closely with area businesses and partner with nonprofit programs such as Read Better, Be Better. The West Valley Mavericks have generously provided support for our teen programs.
Quality of Life Enhancement Award in Education
WINNER: Peoria Unified School District Career and Technical Education Program
Peoria CTE innovatively prepare students to excel providing 25 CTE programs meeting the needs of the community; 1,528 of students participated in work-based learning; 2017: 99.7% graduation rate of concentrators. CTE opportunities advance students' qualification for employment, future employment success, while saving parents time and money for multiple education pathways.
West Valley Excellence in Innovation Award
The Excellence in Innovation Award was developed to recognize individuals, organizations, businesses, facilities or programs which have demonstrated an innovative concept to accomplish one of the following: fulfills a need for West Valley residents, preserves the West Valley's assets or resources and creates an economic benefit for the West Valley.
Excellence in Innovation Award WINNER: City of Goodyear & SRP
How to overcome a water supply challenge led to a landmark partnership between Salt River Project (SRP) and the City of Goodyear. Due to geography, the city was not able to get direct delivery of its share of Colorado River water. SRP agreed to deliver Goodyear's Central Arizona Project (CAP) water allocation for 100 years to a location within five miles of the city's boundary. This partnership is landmark because SRP will be delivering Colorado River water to an entity completely outside its water service area – a first for the company. This partnership saves the city hundreds of millions of dollars in infrastructure costs had the city built its own water transmission system to the CAP system.
The City of Goodyear was seeking to obtain access to its allotment of Colorado River water to help spur future growth and development. After researching several options – most of which required new construction of piping and would be very costly – city staff approached SRP officials with a proposal to utilize its existing infrastructure to deliver the water to a location near the city boundary.
Because the partnership is for 100 years, the Arizona Department of Water Resources recognizes the city's full Colorado River entitlements for the first time. Besides saving the city money, this agreement also helps SRP keep its marginal costs down by having increased flows within its system. One significant challenge the city and SRP had to overcome was to ensure the Arizona Department of Water Resources would recognize this partnership as meeting the assured water supply rules for a 100-year water delivery requirement. These requirements needed to ensure the water would be physically and continuously available, and delivered to the city for 100 years. The solution was for SRP to agree to deliver the city's water for 100 years and make operational adjustments to ensure current customers receive their priority water as well.
What makes this agreement even more valuable is it is considered a gate-way partnership for other potential partners and provide the resources for development, economic prosperity, and commerce of the West Valley.