In the 1970s, more than two in five people said they spent at least one social evening a month with a neighbor. However, as the world has changed, so has our relationship with our neighbors. In a recent study, we found that, now, just over half talk to their neighbors once a week or less (52%), and more than three in five have gone out of their way to avoid them. And while Phoenix ranks No. 1 for cities where Americans are least likely to know their neighbors, Phoenix is also home to the least annoying neighbors in America, according to residents.
---
READ ALSO: 6 best neighborhoods to work in Phoenix
---
How do we view our neighbors today? To find out, we recently surveyed more than 2,200 people in the 25 biggest cities across the country to understand just how neighborly our neighbors are and where the least annoying neighbors and most annoying neighbors live.
Key Takeaways
• 64% of Americans know most or all of their neighbors, and 58% consider them to be friends.
• One in three say their neighbors annoy them once a week or more, most often because of general noise, loud parties, and parking issues.
• The worst neighbors in the country (according to their neighbors) are in Fort Worth, TX; the best can be found in Phoenix, AZ.
How Well Do Americans Know Their Neighbors?
More than two in five respondents to our survey said they know most of or all of their neighbors. The question, however, is how well?
While a majority (58%) consider them to be friends, 31% think of them only as acquaintances, and 11% say they're total strangers. Men are more likely to be friends with their neighbors than women (62% versus 54%). Interestingly, almost two-thirds of those surveyed (64%) admit they actively avoid their neighbors, and only 15% have had meaningful conversations with them.

While 29% of Americans talk to their neighbors a few times a week, that doesn't mean we know them well. In fact, fewer than one in five know all of their neighbors' names.
Children and pets can create a bond among neighbors. Those with children are far more likely to know their neighbors than those without (77% versus 37%). The same goes for pet owners. 73% of those with pets know their neighbors compared to 39% of those who don't have furry friends.
Still, fewer than three in five spend time socially with neighbors more than once a month, and one in five haven't been inside their homes.
More than one in four say they don't care to get to know their neighbors better (27%), most often because both parties are too busy or they're simply not interested in knowing them.
Which Cities Have the Best and Worst Neighbors?
Where are Americans most likely to know their neighbors? According to our survey, three of the top five cities—Indianapolis, El Paso, San Jose, San Francisco, and San Antonio—were in Texas.
The cities where Americans are least likely to know their neighbors were scattered across the country: Phoenix, AZ, Seattle, Boston, New York, and Denver.
Half of our survey respondents said their neighbors annoy them at least a few times a month, most often due to general noise, loud parties, and parking disputes. Naturally, the closer they were to noisy neighbors, the more likely they were to be bothered. Those who live in apartments were more likely to be annoyed by their neighbors at least a few times per month (67%) than those in single-family homes (51%).

Where are the most annoying neighbors in America (according to their neighbors anyway)? We asked residents to rate how annoying their neighbors are on a scale of one to five, and two Texas cities topped the list: Fort Worth at 3.3, followed by El Paso. The latter city was tied with San Jose, CA and San Francisco at 3.2. Indianapolis and Philadelphia each followed closely at 3.1.
The biggest complaint was noise in Fort Worth and San Francisco, while El Paso checked in with a variation on that theme: loud conversations or arguments. The top complaint in San Jose and Philly was parking.
Neighbors' Most Annoying Habits
When asked about their neighbors' bad behavior, more than one-third (34%) said they'd caught their neighbors watching people from their windows, and 21% said they'd seen them peering into others' windows. The same percentage (21%) said their neighbors used security cameras to spy on others.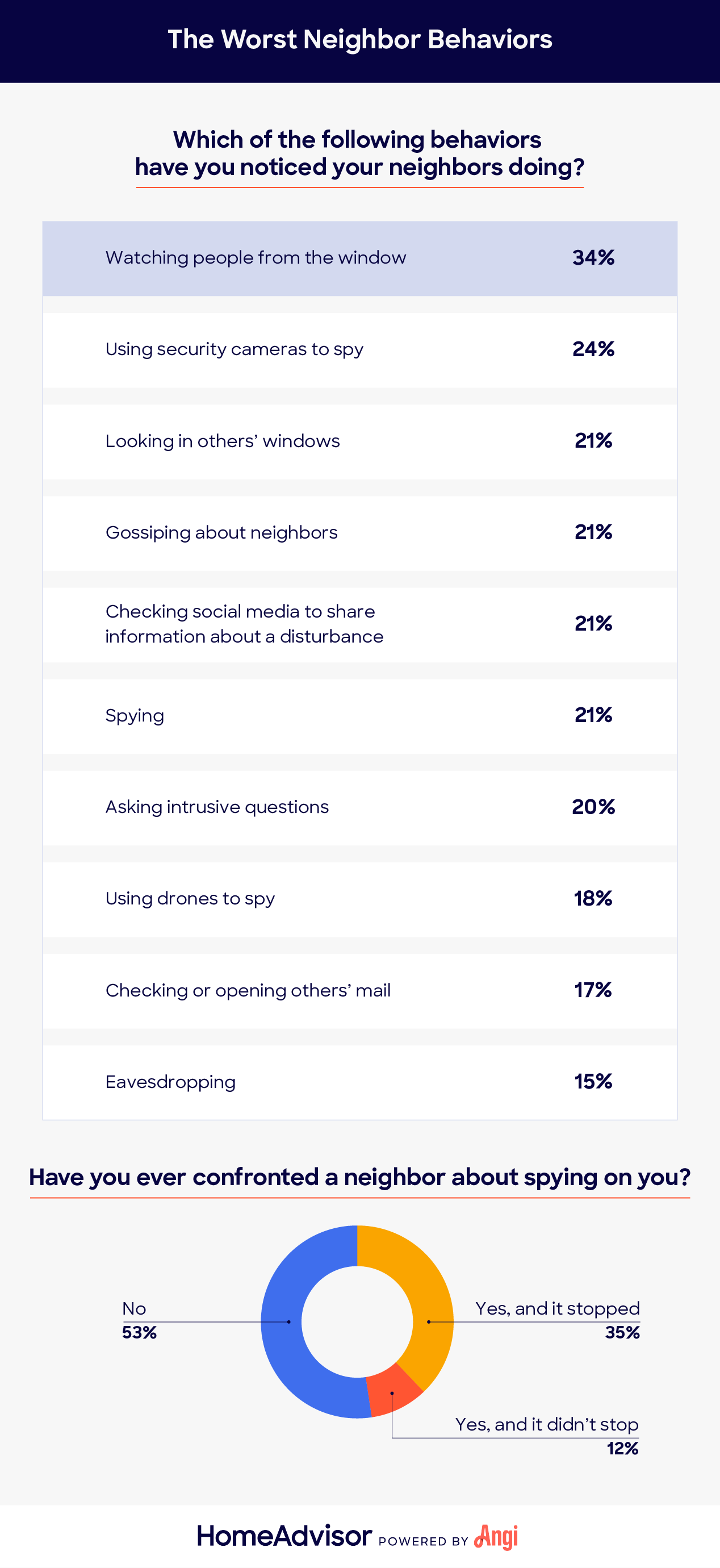 Nearly half of survey participants said they've needed to confront a neighbor about spying (47%), and one in 10 say it didn't stop afterward.
However, the respondents admitted they weren't always innocent themselves. Nearly three in 10 (29%) said they'd watched people from their window, and one in five (20%) admitted to looking in others' windows. Nearly three in 10 (29%) said they'd looked up a neighbors' home online to see what it's worth and what they paid for it, and 23% admitted going online to find out what it looks like inside.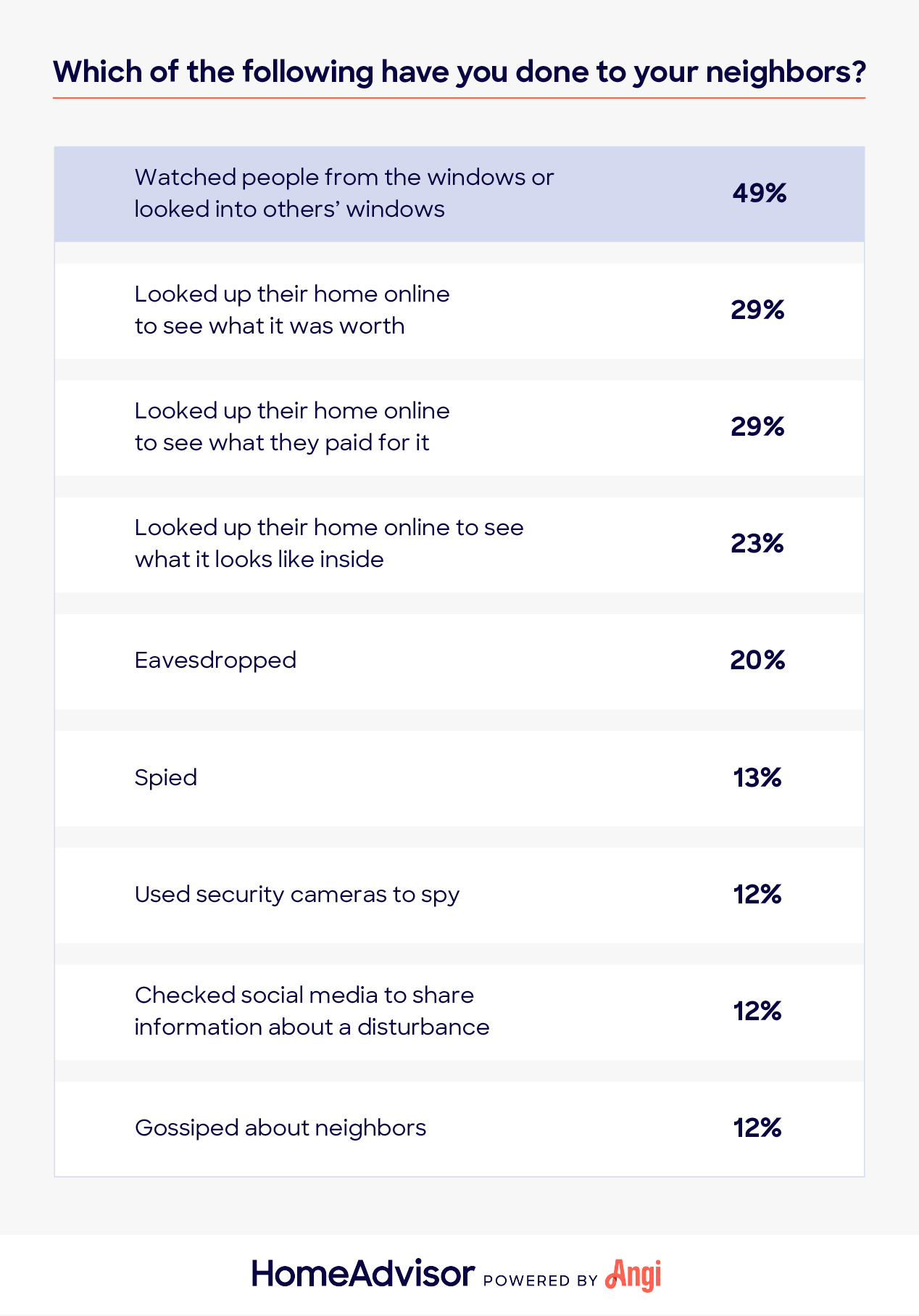 Sometimes, neighbors are more than friends. In our survey, nearly half of respondents (47%) admitted to becoming romantically involved with a neighbor—and more than one in 10 (12%) have actually married one.
But it's not all fun and games. More than half said they've had at least one argument with a neighbor, most often because of parking, loud parties, and bad attitudes; three in five prefer to handle these issues directly rather than contacting someone like a landlord or HOA board member.
Nearly half (45%) admit to having or having had a long-running feud with at least one neighbor. In fact, neighbors can be so frustrating that 42% say they've considered moving, and 13% actually have moved because of a neighbor. Those who live in apartments are more likely to have done so (61%) than those who live in a single-family home (41%).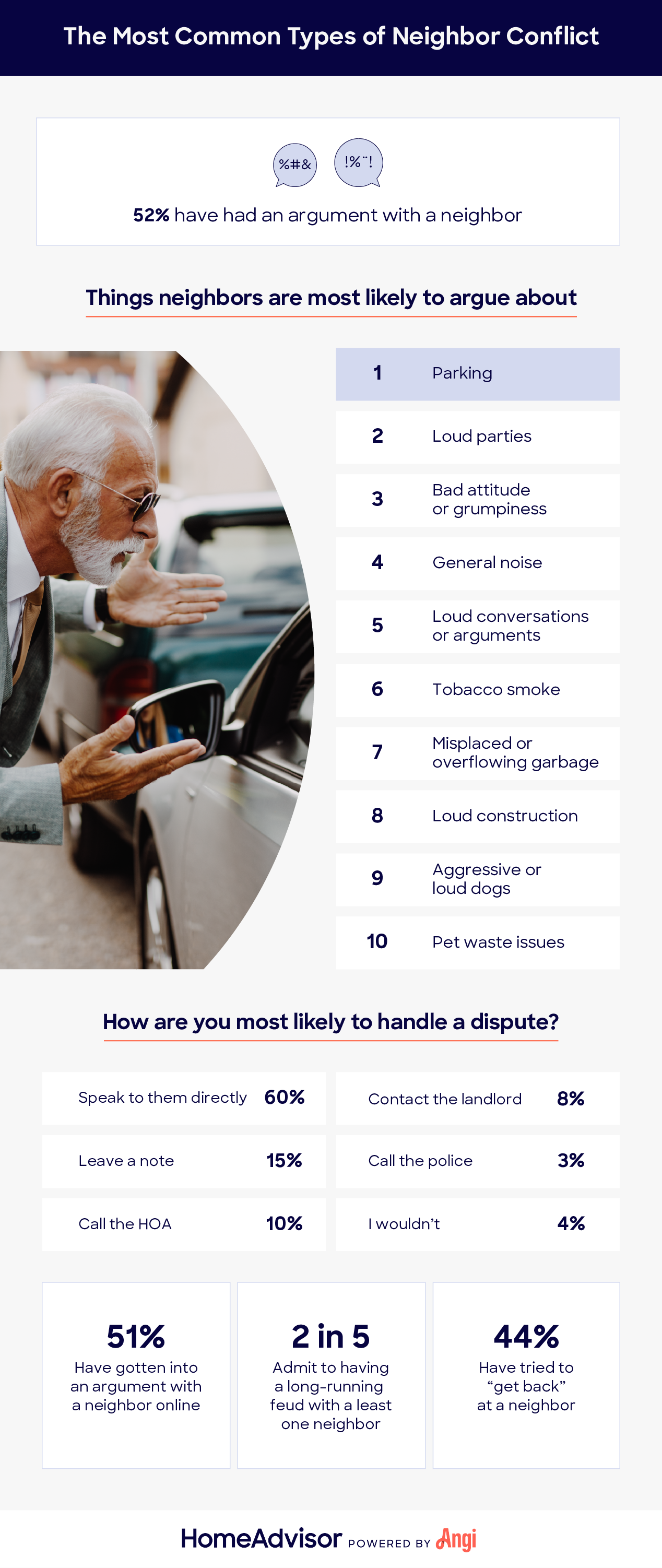 Do Online Platforms Keep Neighbors More Connected?
Some social media sites have expanded our network of friends across the country and the world, turning the world into one big neighborhood for some. Other social media sites, however, have given us new insights into those living just down the street. The use of apps and social media platforms has drawn some closer and made others warier of their neighbors.
About two-thirds of the people in our survey (66%) said they use social media to keep up with and communicate with neighbors. And nearly three in five admit they know some of their neighbors' names only because of social media. Respondents say these platforms help them to feel connected (49%), safe (39%), and informed (34%).
As you might expect, the added information about someone nearby can create added friction. In our survey, 51% said they've been confronted by or have confronted a neighbor over an issue on an online platform—and one in five said the issue stayed the same or even got worse afterward.
In fact, one in four survey respondents said they don't believe they can voice their opinions or concerns on these platforms without the fear of retaliation. For some, it leads to paranoia (22%), a feeling of being unsafe (21%), and agitation (15%).
Love Thy Neighbor
It's not all bad news. In fact, our survey had several bright spots. For instance, the overwhelming majority of respondents consider themselves to be good neighbors (94%), with the highest number saying so in Philadelphia, Nashville, Charlotte, NC, Denver, and Portland, OR.
What does it mean to be a good neighbor? One example of neighborliness is just being friendly, and 88% of our survey participants say they've introduced themselves to a new neighbor or had a neighbor introduce themselves when they moved in.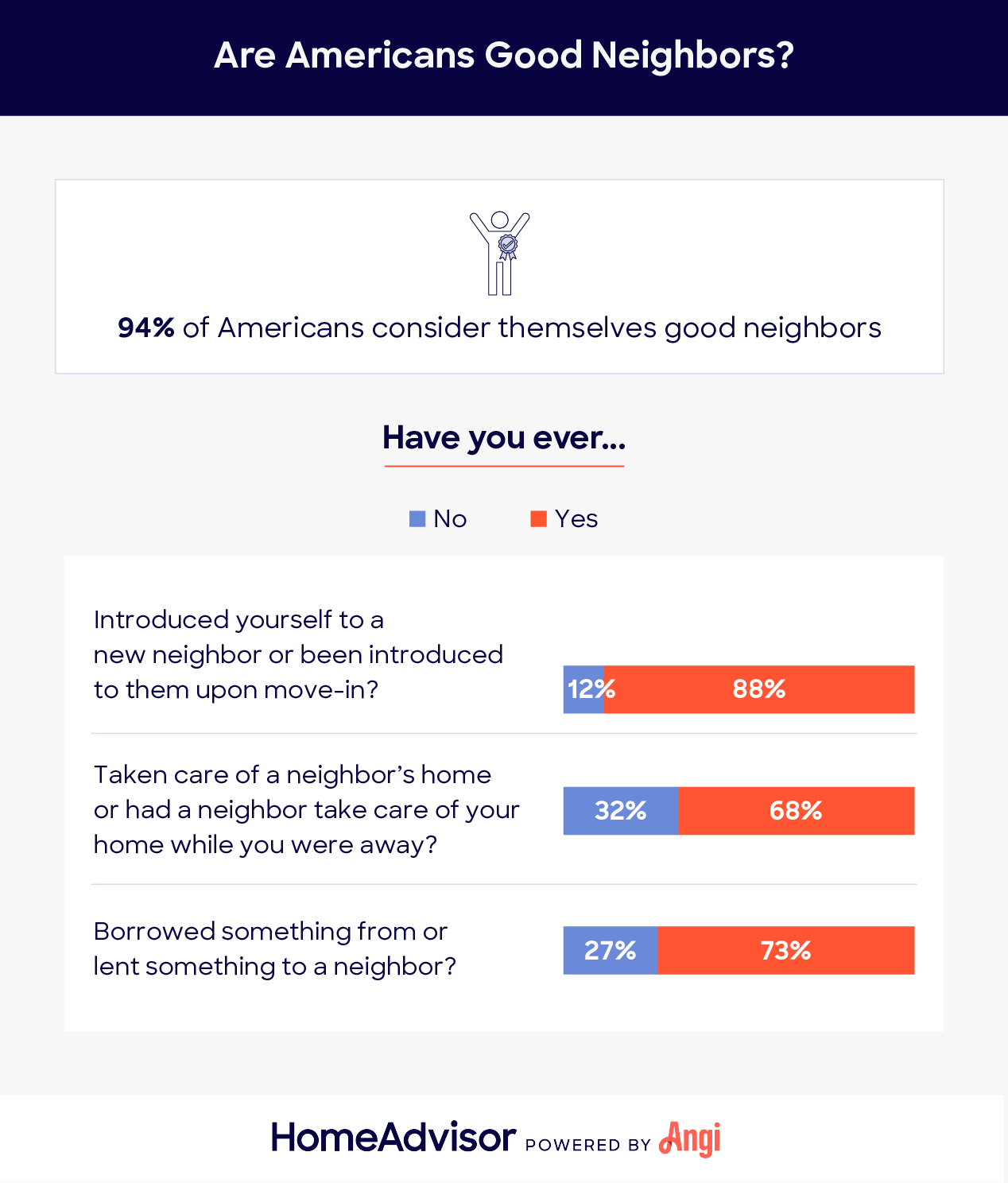 In addition, more than three in four (77%) have visited their neighbors' homes, and 68% have taken care of a neighbor's home or had a neighbor take care of theirs while they were away.
Nearly nine in 10 (88%) trust their neighbors, and that trust can be expressed in a willingness to help out when the time is right. For example, nearly three-quarters of survey participants (73%) have borrowed something from or lent something to a neighbor, while 68% have taken care of a neighbor's home or had a neighbor take care of theirs while they were away.
While everyone may get annoyed at their neighbors from time to time, many consider their neighbors to be their friends and are conscientious about being a good neighbor and helping their neighbors out.
Methodology
Between December 23 and December 29, 2021, we surveyed 2,201 people about their experiences as neighbors.
Of respondents, 52% were male, 47% were female, and 1% were nonbinary or preferred not to say; 65% were married, 23% were single, and 5% were divorced; the average age was 37. More than half (51%) rented their home; 53% lived in a single-family home; 33% lived in an apartment; and 15% lived in a condo, townhouse, co-op, or multi-family home. Just more than two-thirds (68%) had children, and three-quarters (75%) had pets.
We surveyed respondents in the 25 largest U.S. cities according to U.S. Census Bureau data: Austin, TX; Boston; Charlotte, NC; Chicago; Columbus, OH; Dallas; Denver; Detroit; El Paso, TX; Fort Worth, TX; Houston; Indianapolis; Jacksonville, FL; Los Angeles; Nashville, TN; New York; Oklahoma City; Philadelphia; Phoenix; Portland, OR; San Antonio, TX; San Diego, CA; San Francisco; San Jose, CA; and Seattle.