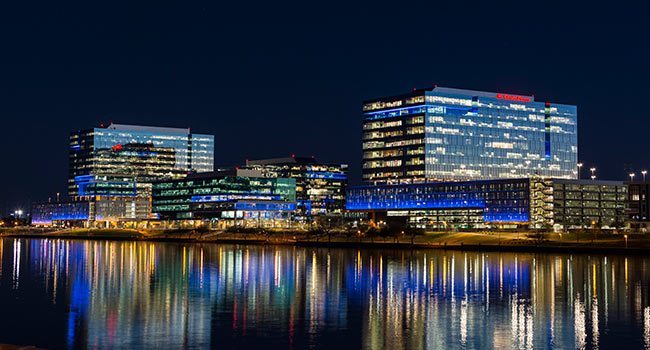 It's award season and for AZRE that means it's again time to recognize the biggest, best and most notable commercial real estate projects completed in 2016 along with the people who made them happen.
This year for the 12th annual Real Estate and Development awards, more nomination forms were submitted than ever before, which is a great sign that commercial real estate development is moving forward in Arizona.
It also meant the selection committee and myself had a lot of homework to do. Selecting only three finalists for each category from such a talented pool of projects, and ultimately picking a winner, proved to be challenging because each project had dozens of things that made it remarkable and unique from state-of-the-art designs and innovative features to construction challenges and community impact.
This year's RED Award winners will not be announced until the event at Chateau Luxe on Thursday, March 16. Jill Kimmel, as seen on Jimmy Kimmel Live, TMI Hollywood and her nationally syndicated radio segment, "What a Mouth," will host this year's RED Awards.
This year, we created an interactive map, revealing the location of each project finalist, including the development details of the projects. Explore the map to see where each project is located across Arizona.
Map of finalists:

Map compiled by Jesse A. Millard
Education
ASU Beus Center for Law & Society
The six-story facility, home to the Sandra Day O'Connor College of Law at Arizona State University, re-imagines the traditional law school as a public building. It's designed to be open and engaging with a flexible layout to transform the space as needed for various private and civic events.
DEVELOPERS: Arizona Board of Regents; ASU Capital Programs Management Group
GENERAL CONTRACTOR: DPR Construction
ARCHITECT: Ennead Architects
SUBCONTRACTORS: Buro Happold Consulting Engineers; Colwell Shelor Landscape Architecture; Dibble Engineering; JBA Consulting Engineers; Jones Studio
SIZE: 280,000 SF
LOCATION: 111 E. Taylor St., Phoenix
COMPLETION DATE: June 2016
Gladden Farms Elementary School
In Marana, a new school concept with an open floor plan allows students and teachers to use the school in nontraditional ways. Operable glass partitions provide flexible learning spaces and promote collaboration. Two large motorized roll-up cafeteria doors connect to the school's covered basketball court and play area. Another unique feature is a concrete interior staircase that includes gathering space on the steps and reading nooks underneath for students.
DEVELOPER: Marana Unified School District
GENERAL CONTRACTOR: Chasse Building Team
ARCHITECT: BWS Architects
SIZE: 83,032 SF
LOCATION: 11745 W. Gladden Farms Dr., Marana
COMPLETION DATE: July 2016
Grand Canyon University Masterplan
GCU completed eight projects in 2016 including new STEM classrooms and labs, student dorms, apartments, a soccer stadium and student services center. Each building has abstracted references to the school's Christian and educational values, while integrating informal learning and social spaces within the buildings and throughout campus, which has doubled in size since 2014 to more than 250 acres.
DEVELOPER: Grand Canyon University
GENERAL CONTRACTOR: Pono Construction
ARCHITECT: suoLL Architects
SUBCONTRACTORS: Bell Steel; Central Supply Mechanical; Hilty's Electrical Contracting; Marlin Mechanical; Suntec Concrete
SIZE: 250-acres
LOCATION: 3300 W. Camelback Rd., Phoenix
COMPLETION DATE: Fall 2016
Healthcare
Banner 755
This four-story, three-phase tenant improvement project consisted of a complete gut and remodel. Banner 755 is a multi-discipline building hosting a different department on each floor. This enables patients to visit multiple healthcare providers within the same building, which serves as a successful model for future facilities. Banner 755 now includes more than 100 exam rooms, 78 private offices, general radiology and nuclear medicine rooms.
DEVELOPER: Banner Health
GENERAL CONTRACTOR: Wespac Construction
ARCHITECT: SmithGroupJJR
SUBCONTRACTORS: Aspen Construction; Cobb Mechanical; DP Electric; Gunsight Construction; Ryan Mechanical
SIZE: 112,000 SF
LOCATION: 755 E. McDowell Rd., Phoenix
COMPLETION DATE: June 2016
Wickenburg Community Hospital Surgical & Diagnostic Center & Medical Office Building
Before the new 10,500-square-foot surgical center and 10,700-square-foot medical office building, local residents traveled more than 40 minutes to the nearest hospital for a variety of healthcare services. Besides financing, undergoing a major construction project adjacent to an operating hospital proved extremely challenging, but the project was finalized without major interruption to emergency and critical healthcare services of the hospital.
DEVELOPER: Wickenburg Community Hospital
GENERAL CONTRACTOR: W.E. O'Neil
ARCHITECT: Highton Company
SUBCONTRACTORS: Holderness Supplies; Kerr Masonry; Saguaro Steel Industries; TDIndustries; Wilson Electric Services Corp
SIZE: 21,200 SF
LOCATION: 520 Rose Lane, Wickenburg
COMPLETION DATE: August 2016
Yuma Regional Medical Center Emergency Room Expansion
Over 500 plans were used during the $115 million project, which was the city's largest in recent history. The project involves a 147,000 SF Emergency Department expansion, spread over two levels with two upper shell floors, totaling 100,000 SF to accommodate future medical, surgical and/or ICU beds. The project also includes two new heliports, a three-level parking structure and a central plant expansion.
DEVELOPER: Yuma Regional Medical Center
GENERAL CONTRACTOR: McCarthy Building Companies
ARCHITECT: ARCHSOL
SUBCONTRACTORS: Delta Diversified; E&K Companies; Progressive Roofing; Schuff Steel; TDIndustries
SIZE: 147,000 SF
LOCATION: 2400 S. Avenue A, Yuma
COMPLETION DATE: October 2016
Hospitality
Fairmont Sunset Pools Suites
The guestroom expansion project originally consisted of a new three-story masonry and precast concrete guestroom suite building, which added 102 new rooms totaling 89,000 square feet that connected to the existing guestroom buildings via skyway. The scope of the plans evolved to include a new event center, sunset pool and bar as well as a 45,000-square-foot Great Lawn.
DEVELOPER: Strategic Hotels & Resort
GENERAL CONTRACTOR: Balfour Beatty Construction
ARCHITECT: Allen + Philp Architects
SUBCONTRACTORS: AME Electric; Harder Mechanical; Stone Cold Masonry; Suntec Concrete; TPAC
SIZE: 89,000 SF
LOCATION: 7575 E. Princess Dr., Scottsdale
COMPLETION DATE: May 2016
FOUND:RE
The adaptive reuse project transformed the shuttered Lexington Hotel into a remarkable boutique hotel, aiding in the revitalization of Downtown Phoenix's urban landscape. FOUND:RE supports local artists with a rotating display schedule throughout its lobby, rooms, pool area and adjacent restaurant. The hotel's distinctively designed rooms match the industrial character of the building with floating wide flange bed frames, custom millwork and bathrooms.
DEVELOPER: Habitat Metro
GENERAL CONTRACTOR: Sletten Companies
ARCHITECTS: DAVIS; PROJX
SUBCONTRACTORS: EF Charles; Gen3; Resolute Performance Contracting; Swisher HVAC; Tibbetts Glass & Aluminum
SIZE: 86,645 SF
LOCATION: 1100 N. Central Ave., Phoenix
COMPLETION DATE: October 2016
Farm & Craft Scottsdale
Scottsdale-based hospitality management company, RIOT Hospitality Group developed Farm & Craft Scottsdale to target Old Town's increasingly Millennial-driven crowds. The structure's original framing was salvaged and a modern farmhouse design with mural-like fields of crops adorning the walls along with wooden and metal finishes were added to give the space its own fresh look and feel.
DEVELOPER: RIOT Hospitality Group
GENERAL CONTRACTOR: LGE Design Build
ARCHITECT: Hayes Inc. Architecture
SUBCONTRACTORS: Deer Valley Plumbing; Desert Structures; Milam Glass Company; Tri-Mega Mechanical; URI
SIZE: 2,416 SF
LOCATION: 4302 N. Scottsdale Rd., Scottsdale
COMPLETION DATE: June 2016
Industrial
HomeGoods Distribution Center
Located on 109 acres in Tucson is HomeGood's three-in-one distribution center. Its western portion consists of three shipping wings with 216 truck docks. The center section has 77 docks with 32-foot clear heights. The eastern portion maintains 47-foot clear heights and contains the narrow-aisle racking with a super flat floor for inventory.
DEVELOPER: TJX Companies
GENERAL CONTRACTOR: Layton Construction
ARCHITECT: Ware Malcomb
SUBCONTRACTORS: Beck Consulting Engineers; Bell Steel; Hardrock Concrete Placement; Peterson Associates Consulting Engineers; TLCP Structural
PROJECT MANAGER: Cresa (Kelly Branch, Jason Wery)
SIZE: 900,000 SF
LOCATION: 6803 S. Palo Verde Rd., Tucson
COMPLETION DATE: February 2016
IRIS USA Manufacturing Facility
Located within Surprise's Southwest Railplex Industrial District, the manufacturing and distribution center features 300,000 square feet of warehouse space with 40-foot clear heights, 21 docks as well as 52,200 square feet of office space. Close coordination between all parties enabled the project to meet an eight-month, fast-track schedule and begin production the same day construction ended.
DEVELOPER: IRIS USA
GENERAL CONTRACTOR: Balfour Beatty Construction
ARCHITECT: Ware Malcomb
SUBCONTRACTORS: Aero Automatic Sprinkler Company; Castle Steel; Delta Diversified; JD Sun Mechanical; Suntec Concrete
SIZE: 447,000 SF
LOCATION: 13423 W. Cactus Rd., Surprise
COMPLETION DATE: May 2016
REI Distribution Center
The first distribution center ever awarded both a LEED Platinum certification and Net Zero Energy rating. The project's 2.2-megawatt solar system covers 280,000 square feet with 6,700 panels and produces more power than it consumes. It also utilizes the first true omni-channel automated fulfillment system, delivering products to customers and retail stores up to eight times faster than average.
DEVELOPER: Merit Partners
GENERAL CONTRACTOR: Renaissance Companies
ARCHITECT: Butler Design Group
SUBCONTRACTORS: Allen & Pinckard Industrial Contractors; Comfort Systems; Milam Glass; RJM Construction; Suntec Concrete
BROKERAGE: CBRE (Pat Feeney)
SIZE: 440,000 SF
LOCATION: 3825 S. 36th St., Phoenix
COMPLETION DATE: July 2016
Infill
Discovery Business Campus – Building 94
Originally built in 1981 as labs and offices for Motorola, the building was transformed into a sophisticated, hi-tech, modern Class A office accented by architectural frames, courtyards, profiled metal panels and a rich contrasting palette of colors. It's currently occupied by DiTech Financial.
DEVELOPER: Wentworth Property Company
GENERAL CONTRACTOR: Jokake Construction
ARCHITECT: DAVIS
SUBCONTRACTORS: Adobe Drywall; DP Electric; Gen3; J.J. Sprague of Arizona; Sun Tech Glass
BROKERAGE: CBRE (Pat Feeney, Chuck Nixon); JLL (Mark Gustin, Karsten Peterson, Dave Seeger)
SIZE: 171,000 SF
LOCATION: 2100 E. Elliot Rd., Tempe
COMPLETION DATE: October 2016
Opus Industrial Airport
An assemblage of five parcels previously occupied by eight separate tenants resulted in the largest new build in over a decade within the Sky Harbor submarket. With flexibility for up to four tenants, the building features 36-foot clear heights, thickened concrete slabs and full truck courts.
DEVELOPER: Opus Development Company
GENERAL CONTRACTOR: Opus Design Build
ARCHITECT: Opus AE Group
SUBCONTRACTORS: Alliance Fire Protection; JFK Electrical Contracting Enterprises; Phoenix Pipelines; Riggs Companies; Specialty Roofing
BROKERAGE: CBRE (Cooper Fratt, John Werstler); JLL (Mark Detmer, Bo Mills)
SIZE: 393,292 SF
LOCATION: 3333 S. 7th St., Phoenix
COMPLETION DATE: November 2016
The Wedge
Originally built in 1978 as a multi-tenant building, it underwent an early 90's stucco cosmetic job and became a college store for books and supplies. Today, the building features an exterior clad in sheets of special metal called Cor-ten. The building's new tenants are Z Pizza Tap Room, The Halal Guys, Even Steven Sandwiches, Kingdom Bike Shop and Ahipoki Bowl.
DEVELOPER: Davis Enterprises
GENERAL CONTRACTOR: Beal Derkenne Construction
ARCHITECT: Tomecak Design
SUBCONTRACTORS: ARC Steel; Western States Metal Roofing
BROKERAGE: Davis Enterprises (Mark Davis, Jenifer Davis Lunt)
SIZE: 11,800 SF
LOCATION: 1015 S. Rural Rd., Tempe
COMPLETION DATE: November 2016
Multifamily
artHAUS
A collection of 25 urban dwellings in Midtown Phoenix, the project was locally developed, designed, financed, marketed and built. Dwellings consist of seven three-level townhomes, 15 two-level lofts and three single-level flats ranging from 560 to 1800 square feet. artHAUS delivers an attainable modern Midtown living experience without the expense of sometimes underutilized amenities like a fitness center or community pool that rarely get used.
DEVELOPER: artHAUS Projects
GENERAL CONTRACTOR: Symmetry Construction
ARCHITECT: artHAUS Projects
SUBCONTRACTORS: Baker Concrete Construction; Clyde Hardware; Hawkeye Electric; KAY Construction; Wolff Mechanical
SIZE: 54,110 SF
LOCATION: 1717 N. 1st Ave., Phoenix
COMPLETION DATE: October 2016
Escape
Appropriately named Escape, the ultra-urban, resort-style, luxury apartment community offers an escape from the mundane with luxurious amenities and convenient access to premium retail and dining options as well as downtown office space and sports facilities. Aesthetically, it's unique design exudes a modern flair with electric splashes of color at every turn. Its amenity tower includes an elevated, outdoor lounge with views of Pinnacle Peak and Camelback Mountain as well as a premium fitness facility.
DEVELOPER: P.B. Bell
GENERAL CONTRACTOR: MT Builders Companies
ARCHITECT: Studio 15 Architecture
SIZE: 248,824 SF
LOCATION: 4700 N. 16th St., Phoenix
COMPLETION DATE: April 2016
Equinox Apartments
Equinox is said to be the first Net Zero Energy apartment building in Arizona. With a total of 1,100 solar panels on the roof and atop the property's parking structures, Equinox's annual energy savings is estimated at $46,500. Fully leased in five months, the project provides rental housing that costs less in rent and utilities when compared to most of the newer apartment buildings in the area.
DEVELOPERS: MODUS Development; Viridis Group
GENERAL CONTRACTOR: Ameris Construction
ARCHITECT: Graham Downes Architecture
SUBCONTRACTORS: REEIS
SIZE: 42,000 SF
LOCATION: 3130 N. Hayden Rd., Scottsdale
COMPLETION DATE: June 2016
Office Interiors
Colliers International Tenant Improvement
The new open design and flexible layout enables Colliers to utilize the space as needed. All the office's public functions were moved to the front of the space for clients to use it as their mobile office, and a central gathering space was added to the middle of the office for eating, meeting and socializing called The Hub.
DEVELOPER: ViaWest Group
GENERAL CONTRACTOR: Stevens Leinweber Construction
ARCHITECT: SmithGroupJJR
SUBCONTRACTORS: Airpark Signs & Graphics; Goodmans Interior Structures; Herman Miller; Maplewood Cabinetry; RC Lurie
BROKERAGE: Colliers International (Phil Breidenbach, Kathy Foster)
SIZE: 21,000 SF
LOCATION: 2390 E. Camelback Rd., #100, Phoenix
COMPLETION DATE: April 2016
JDA Software Regional Headquarters
The 100-percent open office layout focuses on flexibility and connection. It's balanced by a variety of different sized meeting spaces and private phone rooms to accommodate multiple working styles, but no two-conference rooms have the same setup. JDA's new space also includes a fitness area, locker rooms, work/café lounge, game room, beverage bars, large training room and a monumental stair connecting the office's two color-coated floors with each department.
DEVELOPER: Washington Prime Group
GENERAL CONTRACTOR: Jokake Construction
ARCHITECT: Corgan
BROKERAGE: Cushman & Wakefield (Andrew Snedeker)
SIZE: 55,530 SF
LOCATION: 15059 N. Scottsdale Rd., #400, Scottsdale
COMPLETION DATE: March 2016
Matson Money
Imported Italian tile, two three-ton sections of the Berlin Wall, Statue of David replica and handpicked bricks from Chicago are a few of the design features strategically incorporated throughout the office. Matching the office's high-end décor is state-of-the-art technology used in its TV studio, screening room, commercial kitchen and learning space.
DEVELOPER: 1st Premier Properties
GENERAL CONTRACTOR: Wespac Construction
ARCHITECT: Evolution Design
SUBCONTRACTORS: Adobe Drywall; Desert Ridge Glass; Fine Line Cabinetry; ReSource Arizona; Wilson Electric
BROKERAGE: Cresa (Brandon Clarke, Scott Maxwell); Cushman & Wakefield (Sean Spellman, Jeff Wentworth)
SIZE: 47,482 SF
LOCATION: 18940 N. Pima Rd., Scottsdale
COMPLETION DATE: October 2016
Office
Marina Heights (Buildings 300, 400, 450)
Building 300 consists of office space on eight floors and 19,640 square feet of first-floor retail, occupied by Starbucks and Mountainside Fitness. Building 400, the tallest tower, has 16 floors of office space and a Matt's Big Breakfast at the bottom. Building 450 boasts a uniquely designed lobby, color palette and architectural design with a first floor restaurant and HonorHealth Clinic.
DEVELOPERS: Ryan Companies;
Sunbelt Holdings
GENERAL CONTRACTOR: Ryan Companies
ARCHITECT: DAVIS
SUBCONTRACTORS: Barrett-Homes Contractors; E&K Companies; Suntec Concrete; Walters & Wolf; Wilson Electric
BROKERAGE: JLL (John Pierson)
SIZE: Building 300 – 389,610 SF; Building 400 – 625,795 SF; Building 450 – 301,626 SF
LOCATION: 300, 400, 450 E. Rio Salado Pkwy., Tempe
COMPLETION DATE: June 2016
SkySong 4
The building's northwest corner boasts an upgraded version of SkySong 3's metal lath wrap elements, attracting further attention to the ASU Scottsdale Innovation Center, which is home to more than 60 companies and 2,000 employees. Booker Software's office, SkySong4's first tenant, features a spacious kitchen and breakroom with a ping-pong table, arcade pop-a-shot basketball game and bar-top tables.
DEVELOPER: Plaza Companies
GENERAL CONTRACTOR: DPR Construction
ARCHITECT: Butler Design Group
SUBCONTRACTORS: Comfort Systems USA; DP Electric; Jones Concrete; Kovach Building Enclosures; Saguaro Steel
BROKERAGE: Lee & Associates (Andrew Cheney, Craig Coppola)
SIZE: 145,000 SF
LOCATION: 1355 N. Scottsdale Rd., Scottsdale
COMPLETION DATE: November 2016
ViaSat       
Unlike trendier open-office designs, ViaSat's office at the ASU Research and Technology Park offers a 95-percent closed-office environment. The design concept consists of three distinct volumes based on specific programmatic use: a two-story high performance office component, a lab and operations facility as well as common shared spaces, which fuse the three programs together.
DEVELOPER: Levine Investments
GENERAL CONTRACTOR: PCG Construction
ARCHITECT: Gensler
SUBCONTRACTORS: Caruso Turley Scott; Energy Systems Design; TRUEFORM Landscape Architecture Studio; Vesecky Engineering & Surveying
BROKERAGE: Levine Investments (Tony Feiter)
SIZE: 151,000 SF
LOCATION: 2040 E. Technology Cir., Tempe
COMPLETION DATE: May 2016
Recreation
Arizona State University Sun Devil Stadium Improvements Phase 1 & 2
ASU's $256 million renovation started in the south end zone by removing the metal bleachers, reconstructing the lower bowl and adding new amenities and elevators. Phase 2 construction included the lower stadium bowl, west upper deck, new student athletic facility, concessions, restrooms, amenities and luxury suite level on the west sidelines. The final phase is expected to be finished by the start of the 2018 season.
DEVELOPERS: Arizona Board of Regents; Arizona State University
GENERAL CONTRACTORS: Hunt; Sundt
ARCHITECTS: Gould Evans; HNTB Corporation
SUBCONTRACTORS: Able Steel Fabricators; BCS Enterprises; Interstate Mechanical Corporation; Suntec Concrete; Sun Valley Masonry
SIZE: 122,195 SF (Phase 1 & 2)
LOCATION: 500 E. Veterans Way, Tempe
COMPLETION DATE: September 2016
Dolphinaris Arizona
Said to be the first facility of its kind west of the Mississippi River, Dolphinaris makes the dream of swimming with dolphins a reality. The design includes a 925,000-gallon salt-water pool, which is also said to be the largest pool in Arizona. The $15 million project required close collaboration between all parties and took three years to complete.
DEVELOPERS: Ventura Entertainment Arizona; Ventura Capital Privado
GENERAL CONTRACTOR: A.R. Mays Construction
ARCHITECT: Deutsch Architecture Group
SUBCONTRACTORS: Presidential Pools; Basic Metals; Specified Electrical Contractors
SIZE: 36,369 SF
LOCATION: 9500 E. Vía de Ventura, Scottsdale
COMPLETION DATE: October 2016
OdySea Aquarium
OdySea Aquarium is the largest aquarium in the Southwest, spanning 200,000 square feet. The two-story facility holds more than two-million gallons of water, which is filtered through more than 300 pumps and 42,000 lineal feet of piping. The aquarium's concrete tanks are combined with 5,455 square feet of acrylic viewing windows for visitors to enjoy the facility's 50 exhibits and more than 30,000 animals.
DEVELOPER: OdySea in the Desert
GENERAL CONTRACTOR: McCarthy Building Companies
ARCHITECT: Deutsch Architecture Group
SUBCONTRACTORS: K&F Electric; McCarthy Concrete; Schuff Steel
SIZE: 200,000 SF
LOCATION: 9500 E. Via de Ventura, Scottsdale
COMPLETION DATE: August 2016
Redevelopment
Nexus
The modifications to the nearly 30-year-old building transformed the plain, obsolete box into a highly attractive, modern office that's fully occupied by Amazon. A bold two-story lobby was enclosed with a full-height, curtain-wall system with a metal-pane and cladded roof projection, yielding a "jewel box" element as the main focal accent.
DEVELOPER: ViaWest Group
GENERAL CONTRACTOR: RJM Construction
ARCHITECT: Stantec (formerly PHArchitecture)
SUBCONTRACTORS: Erickson & Meeks Engineering; G.K. Flanagan Associates; Hawkins Design Group; Mechanical Designs; PK Associates
BROKERAGE: JLL (Mark Gustin, Karsten Peterson, Dave Seeger)
SIZE: 122,000 SF
LOCATION: 8375 S. River Pkwy., Tempe
COMPLETION DATE: February 2016
Terminal 3 Modernization at Sky Harbor Airport
Originally designed in 1978, the terminal opens up to spectacular atrium spaces, skylights with natural light and views of the city and desert landscapes following the completion of Phase 1. It's also equipped with the most advanced, high-quality systems and innovative technologies like new passenger queue wait time tech throughout the terminal, which should achieve LEED Silver certification once later phases are completed by 2020.
DEVELOPER: Department of Aviation for City of Phoenix
GENERAL CONTRACTOR: HuntAustin
ARCHITECTS: DWL Architects + Planners; SmithGroupJJR; Corgan
SUBCONTRACTORS: Affiliated Engineers; Dibble Engineering; Gannett Fleming; KPFF Consulting Engineers; LSW Engineers Arizona
SIZE: 334,198 SF (Phase 1)
LOCATION: 3400 Sky Harbor Blvd., Phoenix
COMPLETION DATE: December 2016
Comcast
Aside from escalators that remain in the building, it's hard to tell Comcast was once filled with mall shoppers. In less than eight months, crews transformed five former movie theaters into an open office and the old Galleria Mall into a single-tenant call center. Comcast's new flagship call center and training facility in Tucson is the company's largest in the Western U.S.
DEVELOPER: Tanager Property Management
GENERAL CONTRACTOR: Jokake Construction
ARCHITECT: Acquilano Leslie
SUBCONTRACTORS: Adobe Drywall; Central Alarm; Comfort Systems USA; Kazal Fire Protection; Wilson Electric
BROKERAGE: JLL (Keith Lammersen, Jason Moore)
SIZE: 160,018 SF
LOCATION: 4690 N. Oracle Rd., Tucson
COMPLETION DATE: March 2016
Retail
The Colony
The latest entry into the emerging Midtown culinary scene is a multi-use project that's part-new construction and part-adaptive reuse. Phase 1 consisted of renovations to the original 1950s-era building and Phase 2 included new construction, which varied based on the tenants and use. When it opened, The Colony was fully leased with six tenants.
DEVELOPER: Western Vertical Holdings
GENERAL CONTRACTOR: LGE Design Build
ARCHITECT: LGE Design Group
SUBCONTRACTORS: AF Steel Fabrication; Phoenix Commercial Electric; Sharp Creek Contracting; TCK; Vintage Plastering Company
BROKERAGE: Phoenix Commercial Advisors (Teale Bloom, Taylor Laing)
SIZE: 22,467 SF
LOCATION: 5538 & 5600 N. 7th St., Phoenix
COMPLETION DATE: June 2016
Town & Country
The redevelopment of the historic shopping center that opened in 1960 included a refreshed look and new buildings for The Container Store, Hop Doddy, Orvis and Forever 21. Each building was designed with limestone, steel, glass, aluminum panels and composite wood to give the shopping center an updated look while blending the buildings in with the old.
DEVELOPERS: Camelback RE Development; RED Development
GENERAL CONTRACTOR: Chasse Building Team
ARCHITECTS: Reigle & Associates; Suite 6 Architecture
SUBCONTRACTORS: Demers Glass; Desert Structures; Huff & Sons Construction; Kortman Electric; Southwest Earthworks
BROKERAGE: CBRE (LeDonna Spongberg)
SIZE: 54,246 SF
LOCATION: 4949 N. 20th St., Phoenix
COMPLETION DATE: May 2016
Uptown Plaza
The retail landmark opened in 1955 as one of the Valley's first shopping destinations. Renovations modified the building's unique character to reflect its mid-century roots and enhance the surrounding community. Familiar mid-century details include original steel canopies, metal scrim signage panels, light fixtures and reclaimed bricks from a demolished house built in 1953, which matched the ones used to originally build Uptown Plaza.
DEVELOPER: Vintage Partners
GENERAL CONTRACTOR: Kitchell
ARCHITECT: Nelsen Partners
SUBCONTRACTORS: Dickens Quality Demolition; Floor Associates; Foursite; Pearson Engineering Associates; PK Associates
BROKERAGE: CBRE (LeDonna Spongberg)
SIZE: 116,787 SF
LOCATION: 100 E. Camelback Rd., Phoenix
COMPLETION DATE: June 2016