Cities rise and fall based on the decisions they make regarding the best use of their resources — whether that's the local talent pool, housing stock or business environment. And, contributing to all of these is the fundamental issue of how to manage and optimize the allocation of unused, underutilized or vacant land that can sustain housing needs and various economic activities. Thankfully, Metro Phoenix ranks No. 3 among U.S. cities for most vacant land, according to a CommercialCafe analysis.
---
DEEPER DIVE: Phoenix ranks No. 2 for most industrial real estate under construction
---
To that end — and as a follow-up to a previous study on urban development and vacant parcels located in central business districts — CommercialCafe created an updated, city-wide analysis of vacant land availability and construction activity throughout 20 of the most populous urban centers in the U.S.
Specifically, by using the most recently available data from Property Shark and online government records, we estimated the total acreage and number of parcels, as well as the average lot size of undeveloped land within the cities in the ranking.
We also used CommercialEdge data to look at both planned and ongoing projects in the pipeline, highlighting specific local initiatives that seek to maximize the use of undeveloped parcels within cities. Additionally, where relevant, we provided a 10-year overview of industrial, office and residential construction activity at the city level.
Key Highlights:
• Cities across the Texas Triangle have tens of thousands of acres of undeveloped land.
• Metro Phoenix ranks No. 3 among U.S. cities for most vacant land.
• Densely built up areas such as New York City still have plenty of land for development
• Charlotte and San Francisco have less than 1,000 acres of undeveloped land between them.
• Industrial construction has been a vital component of all major cities' pipelines since 2012, with the trend set to continue.
Cities Across the Texas Triangle Have Tens of Thousands of Acres of Undeveloped Land
Across the 20 most populous cities in the U.S. there are 516,980 acres of land currently still awaiting development – with the average lot size resting at roughly 1.22 acres.
Unsurprisingly for those familiar with the map of urban spawl across the U.S., cities across the South and Southwest boast tens of thousands of acres of undeveloped lots each.
Namely, Texas remained the home of urban sprawl with the highest number of entries on our list. In fact, with the exception of Phoenix — which landed in third place — the top five cities in terms of vacant land were all from the Lone Star state.

More precisely, Dallas led with a whopping 90,739 acres across more than 30,000 parcels with an average size of 2.72 acres. Since 2012, the city has added more than 40 million square feet of new office and industrial space to its inventory, spurred by an influx of businesses opting to relocate to Texas in recent years. Residential construction activity was also robust during the same period, with roughly 46,000 units developed throughout Dallas.
Then, this year, the city witnessed one of the biggest land sales in its recent history as 460 acres in the Mountain Creek development in southwest Dallas changed hands. The new owners will focus on residential construction in the area, with plans for new homes and apartments.

Not to be outdone, Dallas' sister city, Fort Worth, Texas, boasted 74,835 acres of undeveloped land with average lot sizes around the 2.66-acre mark. Here, the city's pipeline tilts heavily toward industrial development. In fact, no less than 51 million square feet of warehousing and manufacturing space were built between 2012 and 2022. And, the trend is set to continue in the near future as Fort Worth has 22 million square feet of new industrial space in the pipeline, either planned or under construction.
Notably, one of these planned developments is at the site of the former North Hills Mall along Boulevard 26 near Northeast Loop 820. The lot had been vacant since 2007 when the mall was razed, but city leaders are planning a three-phase construction project for the area, which includes single family homes and apartments, as well as some 60,000 square feet of commercial space. There's also a proposal by Kairoi Residential to build an 825-unit apartment complex in the heart of the Fort Worth Stockyards. Moreover, a 24-acre tract in south Fort Worth is also up for grabs and marketed as the ideal location to fit some 572 newly built housing units.

Nestled between entries from Texas, Phoenix landed in third place with a grand total of 53,022 acres of vacant land. The city also boasted the third-highest average lot size on the list at 3.34 acres, behind only Oklahoma City and San Jose, Calif.
Notably, with a majority of the undeveloped and vacant land in Phoenix being government-owned, the City Council recently approved a list of 150 parcels to build new affordable housing in a push to create 50,000 homes by 2030. The project would consist of both single family homes and apartment complexes, depending on the varying sizes of the parcels at hand.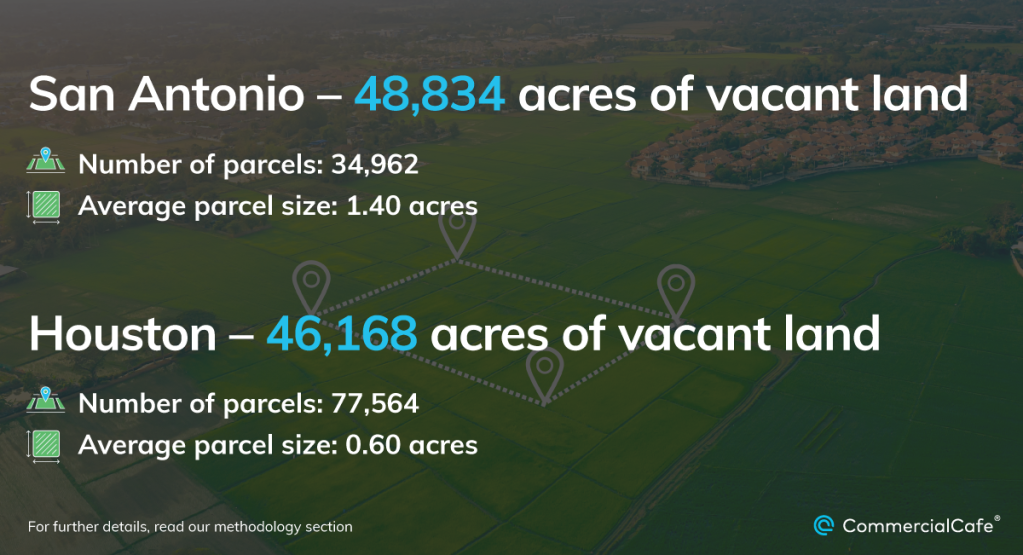 The other two Texas cities in the top five were San Antonio with roughly 35,000 parcels totaling 48,834 acres and Houston, which had more than double the number of parcels as San Antonio to total 46,168 acres. Accordingly, the average lot size in San Antonio was more than double that of its eastern neighbor.
Of course, both cities have witnessed strong construction activity in their respective commercial real estate markets since 2012, albeit at different scales. That said, Houston stood out among the cities on our list for adding the most industrial and office space to its inventory with 86.4 million, outranking even New York City in this regard. Houston also added the second-largest number of housing units (76,543).
Meanwhile, San Antonio's decade-long focus on warehousing and industrial space development seems to be holding steady, as the city added 20.6 million square feet of new space since 2012. It's also expected to add another 7 million in the following years.

Among the California entries in our ranking, Los Angeles placed the highest (sixth) with 42,228 acres of undeveloped land and an average lot size of 1.25 acres. Here, development remains focused on adding office space to the city's inventory with roughly 11 million square feet in the pipeline (either planned or under construction).
Additionally, in January, a 260-acre plot of undeveloped land in Senderos Canyon came up for auction, opening up a host of development opportunities for interested parties. One of the major selling points of this plot — which cuts through the middle of Bel-Air — is that it has not yet been designated for a specific use. However, prospective buyers have already put forth proposals for a variety of projects for everything from a retirement community to a sprawling campus or an extensive wellness retreat.

Moving to seventh place, there's a noticeable drop-off in terms of the overall vacant land acreage: Undeveloped tracts in Indianapolis added up to 26,604 acres — roughly half of the amount available in Los Angeles. What's more, Indy also had the second-lowest number of housing units and office spaces built (within our ranking) throughout the decade, with the bulk of the construction activity in the market focusing on industrial properties (13 million square feet).
Granted, with only 13,471 units of housing built since 2012, attempts to increase Indianapolis' residential inventory have also been underway. Most recently, the Department of Metropolitan Development drew up plans to take about 100 abandoned properties from the city land bank and offer them up for redevelopment, with special attention given to neighborhoods such as the Near Eastside, Martindale-Brightwood and Near Northwest.

Finally, Austin closed out the list of Texas entries on our list for vacant land availability in the top 20 most populous U.S. cities. Landing in eighth place, it had almost half of the acreage of undeveloped parcels at its disposal (25,117) as Houston.
Following an intense decade of commercial and residential development, Austin added some 38.4 million square feet of office and industrial properties to its stock, along with the third-highest number of housing units among our top 20 cities. Furthermore, when we considered ongoing or planned residential projects, Austin was second with 56,434 units to be built, behind only New York City.
Further south, the most populous city in Florida took the ninth position in this ranking with 24,396 acres of undeveloped land to its name and average lot sizes just under one acre: Jacksonville, Fla., had nearly 12.5 million square feet of industrial space in the pipeline, having already added some 15.6 million throughout the course of a decade.
---
Author: Finding the right industrial, flex or office space has never been easier. With CommercialCafe.com you can browse the latest commercial real estate listings in your preferred location and filter results by space type, size or asking price: