Here's how Arizona jobs exploded in June
Arizona job growth exploded in June with the state adding 37,800 seasonally-adjusted jobs over the month. That was the largest gain since last June and was six times higher than average monthly job gains from 2015-2019.
Over-the-month job gains in June were driven by government (primarily local government); leisure and hospitality; trade, transportation, and utilities, with support from education and health services; other services; professional and business services; and construction. Jobs in natural resources and mining; financial activities; manufacturing; and information were roughly stable over the month.
---
READ ALSO: Arizona expected to add 325,000 jobs by spring 2022
---
The state has now replaced 86.6% of the jobs lost from February to April of 2020. That was better than the national replacement rate of 69.8%. Arizona jobs are now 44,500 below their pre-pandemic peak.
Arizona's average monthly job gains since June 2020 have averaged 11,900. At that pace, the state will regain its pre-pandemic peak in October 2021 (Exhibit 1). If the state returns to average job gains during the 2015-2019 (6,300 per month), then the state will return to the prior peak in February 2022. The U.S. is currently on pace to regain the prior peak in May 2022.
Exhibit 1: Arizona's Job Recovery Has Accelerated Recently, Seasonally Adjusted, Thousands
The jobs recovery remained very unevenly distributed across the state in June. Exhibit 2 shows the percent change from February 2020 to the last month of the quarter for the past six quarters for Arizona and its metropolitan areas, and the U.S. Note that jobs in Phoenix were just 0.3% below their peak as of June 2021. Similarly, jobs in Lake Havasu City-Kingman, Prescott, and Sierra Vista-Douglas were close to or above the prior peak. In contrast, jobs in Flagstaff, Tucson, and Yuma remained well below the pre-pandemic peak. Statewide jobs were 1.5% below the peak and nationally jobs were 4.4% below the peak.
Exhibit 2: Arizona Jobs by Metropolitan Area, Percent Change from Pre-Pandemic Peak, Seasonally Adjusted, in Percent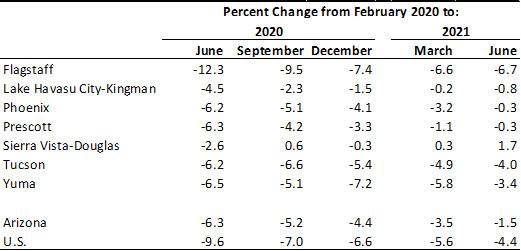 Exhibit 3 shows that jobs in nearly all sectors in Arizona remained below the pre-pandemic peak in June. Leisure and hospitality jobs remained the farthest below February 2020, followed by government (primarily local government); professional and business services; and information. Only trade, transportation, and utilities jobs were above their February 2020 level, with transportation and warehousing driving the majority of the growth.
Exhibit 3: Arizona Jobs by Industry, Change From February 2020 to June 2021, Seasonally Adjusted, Thousands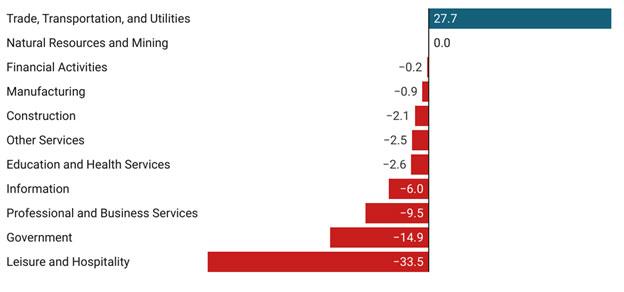 The state's seasonally-adjusted unemployment rate rose to 6.8% in June, from 6.7% in May. That was above the national rate of 5.9%. Monthly state and local unemployment rates come from the Local Area Unemployment Statistics (LAUS) program. These data are generated from econometric models, which use CPS (household) survey data and other inputs to estimate household labor market outcomes like labor force participation, employment-population rates, employment, unemployment, and the unemployment rate.
The monthly data tend to be volatile during the current year, but settle down after the normal annual revision in March. Exhibit 4 shows monthly seasonally-adjusted estimates for employment and unemployment for Arizona. Note that employment has increased rapidly in recent months but that unemployment has been fairly stable. Since the labor force is the sum of employed and unemployed residents, this implies that the labor force has been growing.
What accounts for the stability in unemployment while employment is rising? One possible explanation is population growth driven by net migration. As residents move to a new state, they tend to experience a spell of unemployment before finding a job. It is also possible that the unemployment data will be revised down when revised estimates for 2020 are released.
Exhibit 4: Arizona Seasonally-Adjusted Employment and Unemployment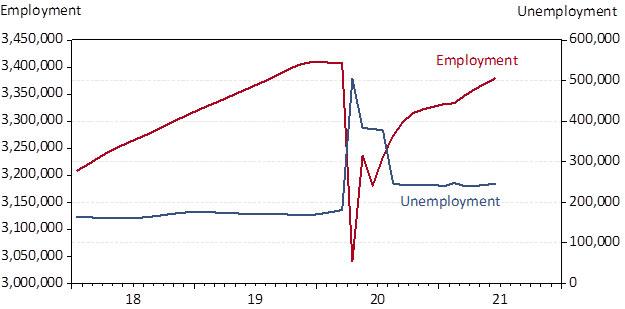 George W. Hammond, Ph.D., is the director and research professor at the Economic and Business Research Center (EBRC).