At a median price around $4,000 per acre, land is cheapest in Arizona. The neighboring Southwestern state of New Mexico ranks a close second at $6,000 per acre. Representing the South and third place is Mississippi at around $10,000 per acre. If you're interested in buying a large tract of land, New Mexico has the cheapest median price for parcels of 100 acres or more, and Arizona has the cheapest median price for parcels of 640 acres (1 square mile) or more.
If you're looking for a property that already has a house on it, then Mississippi is the best place for the lowest cost. New Mexico is a close second in this category, with the cheapest price per acre for large homes with four or more bedrooms. If you want to build a new home, look to Arizona for the least expensive homesites in the nation. Aside from the low cost of land, other reasons to relocate to Arizona include a sunny climate and a reasonable cost of living. The top 10 small towns, like Sedona and Bisbee, also feature beautiful scenery, recreational activities, and artistic communities.
Where to Build a New Home
A homesite is a building lot that's been zoned as residential property, so buyers can legally build a home on the land they purchase. The states with the most homesites available for purchase offer a wider selection and lower prices than states with less livable land for home building.
Southern and Western states topped our rankings as the best states for homesites in 2021. States with the least availability of homesites tended to be in the North. The top 5 states with the highest number of homesites currently available for purchase are as follows:
1. Arizona
2. North Carolina
3. Louisiana
4. Tennessee
5. Florida
With so much affordable land available, the trend of Americans moving to the South or West might well carry over from past years to 2021. Midwestern states of Nebraska and Indiana also have a high percentage of homesites available for purchase this year. Indiana is additionally listed among the top 10 cheapest states to live, based on a study by the Council for Community and Economic Research.
Where to Find Land for Recreational or Commercial Use
After analyzing data about residential land, our study looked at land availability for recreational and commercial use. Indiana, a top competitor for affordable homesites with a low cost of living, also topped our list below with the most land available for commercial use. And while Texas ranked in the middle for cheapest land, the Lone Star State ranks best for those looking to own a farm or ranch. (Though if you're looking for acreage for a horse ranch, Montana has the largest selection of properties for that purpose.)
Michigan ranked as the best state for two types of properties: hunting and lakefront. For other properties on the water, look to Maine for oceanfront acreage and South Carolina for tracts along rivers. In addition to topping the charts for the highest proportion of available homesites, Arizona once again ranked highly in our study and is the state with the most undeveloped land and the most properties for recreational use.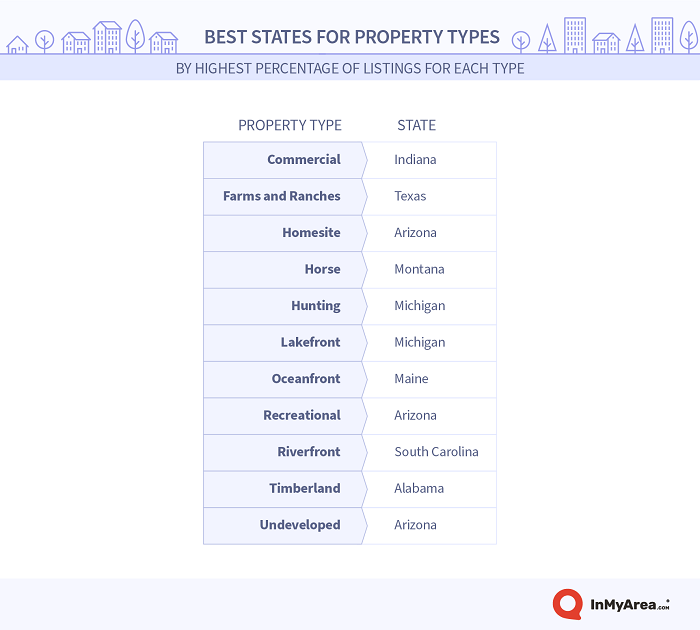 The availability of recreational opportunities is an important factor many Americans consider when deciding where to relocate. In addition to property types, we determined which states had the highest proportion of land set aside for different recreational pursuits. Alaska was the clear winner for outdoor adventure as it ranked the best in availability of land for the following:
• Aviation
• Beaches
• Boating
• Canoeing/kayaking
• Fishing
• Off-roading
Montana ranked as the best state for horseback riding properties, which correlates with our findings that it offers the most land for horse ranches. And another Western state, Nevada, took the lead for RVing properties.
The state with the most land set aside for camping is New York. Located in the Northeast, many people think of New York as a great metropolitan area; however, the Empire State actually has vast acres of forested lands and large lakes to enjoy. New York is also the sixth cheapest state in which to buy rural land, charging an average price of $12,000 per acre. And while the forestry industry is an important part of the state's economy, Alabama currently has the most timberland available for purchase, according to our study.
Conclusion
Millions of acres are currently for sale across the U.S., providing a great opportunity for Americans looking to relocate this year or purchase a property for commercial or recreational use. The most affordable land overall can be found in the neighboring Southwestern states of Arizona and New Mexico. Property with an existing house is cheapest in Mississippi, while acreage with the potential to build a residence is least expensive is in Arizona, where much of the land is still undeveloped. Most Southern and Western states are cheaper to relocate to than those in the Northeast, although the states of New York and Utah are notable exceptions to their regions' rules, since rural land is highly expensive in Utah and notably cheaper in New York than surrounding states.
Our Data
To create this ranking of the states with the most affordable land, we analyzed wide samples of the listings available on LandWatch.com. For each state, a sample of between 125 and 2,136 listings was considered to assess trends in the larger catalog. In our analysis, property types and activities were classified according to tags embedded in LandWatch.com listings. LandWatch.com listings tend to emphasize rural areas, so this analysis is best applied to the availability and cost of land not contained in urban areas.