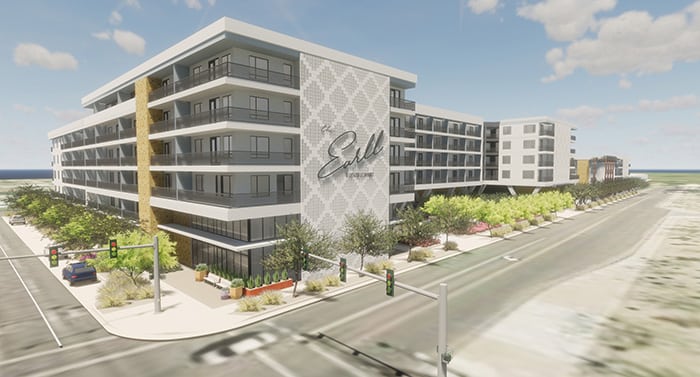 In each issue of AZRE magazine, we feature six New to Market projects you need to know about.   
This issue's projects feature upcoming medical office, mixed-use and senior living projects that are sure to bring new excitement to the communities they're being built within.   
If you know of a significant project that will be completed or will break ground in Arizona soon, then submit your project submissions to AZRE Associate Editor Steve Burks at Steve.Burks@azbigmedia.com to be considered for a "Project Spotlight." More details for submitting is at the bottom of this story.    
Mesa Mormon Temple Redevelopment 
Developer: City Creek Reserve Investments 
General Contractor: Porter Brothers Construction 
Architect: Dale Gardon Design 
Location: 101 S. Lesueur, Mesa 
Size: 18,000 SF visitors center, 250 apartments, 12 townhouses, 12,500 SF retail space, underground parking with 450 stalls.  
Value: Unknown 
Start: September 2018 
Completion: Late 2020
The stretch of land just west of the Mesa Arizona Temple of The Church of Jesus Christ of Latter-day Saints, across from the light rail, is being redeveloped to include a mixed-use community. The plot of land, which totals 4.5 acres, is currently vacant and will soon have a multifamily development, retail facility and parking. The Temple is currently being renovated too.
Crescent Midtown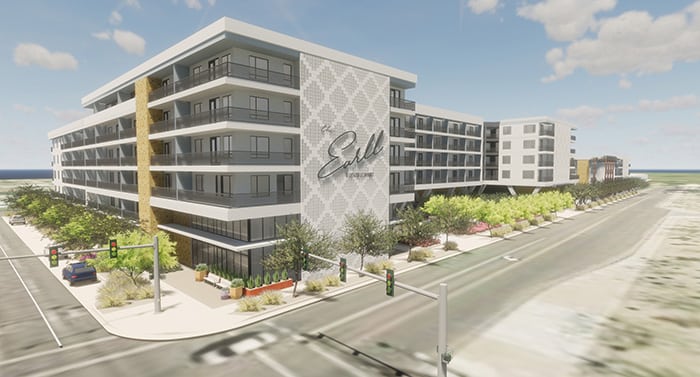 Developer: Crescent Communities  
General Contractor: Chasse Building Team 
Architect: Davis Partnership (Denver, CO) 
Brokerage: Mike Lieb 
Location: 3rd Street and Earll Drive, Phoenix 
Size: 335 Units 
Value: TBD 
Start: November 2018 
Completion: November 2020
A stretch of 20 homes in the midtown area were recently demolished to make way for this upcoming multifamily community. The multifamily community is located near Park Central Mall and the light rail corridor that runs through midtown and uptown Phoenix. Developers have been aggressively pursuing the midtown area with this 3.6-acre site being one of the most recent multifamily project that's underway.
Mercy Medical Commons II 
Developer: MedProperties Group 
General Contractor: Balfour Beatty 
Architect: Ware Malcomb 
Brokerage: Colliers International 
Location: 3591 S. Mercy Rd., Gilbert 
Size: 56,000 SF 
Projected Development Cost: $20 million 
Start: 3rd Quarter 2018 
Completion: Estimated November 1, 2019 
This project will be located directly across from the main entrance into Dignity Mercy Gilbert Medical Center. The facility will be anchored by The CORE Institute, which signed on for a 20,000-square-foot lease. CORE will take the first and second floors of this upcoming medical office.
The Manor Village at Desert Ridge 
Developer: The Statesman Group 
General Contractor: TBD 
Architect: Biltform 
Location: Deer Valley Road between 52nd and 56th streets 
Size: 287,000 SF (196 suites) 
Value: $50 million 
Start: Winter 2018 
Completion: Early 2020 
Floor plans for this senior living community will range in size from 446 to 1,043 square feet. There will be 196 independent, assisted and memory care suites within this project. The independent facilities will have full kitchens, stackable washer and dryer and a state-of-the-art emergency call and response system. The facility itself will include a variety of amenities for residents to enjoy.
Lotus Project 
Developer: Conor Commercial Real Estate 
General Contractor: McShane Construction Company 
Architect: Deutsch Architecture Group and DLR Group (Phase I) 
Brokerage: CBRE 
Location: Loop 202 and Kyrene Road in Chandler 
Size: 470,000 SF in Phase I and 216,000 SF projected in Phase II 
Value (estimated costs): Phase I budget is approx. $45 million 
Start: September 2018 (Phase I) 
Completion: September 2019 (Phase I) 
It's projected that this facility will bring in 2,500 jobs to Chandler. The industrial elements of this facility will facilitate low intensity users, like storage, and high intensity like advanced manufacturing. The second phase of this project will be a continuation of the industrial oriented phase one, and will bring in office facilities to the project.
Akos Medical Campus 
Developer: National Cardiovascular Management, LLC 
General Contractor: Venn Construction 
Architect: Devenney Group 
Brokerage: NAI Horizon 
Location: 10825 W. McDowell Rd., Avondale 
Size: 140,000 SF (two 68,000 SF buildings) 
Start: July 2018 
Completion: March 2019 
This Avondale project will add two state-of-the-art medical office facilities and is under 20 minutes away from Phoenix Sky Harbor International Airport and downtown Phoenix. Currently, a multi-specialty outpatient ambulatory surgery center will anchor the facility and a 24/7 urgent care pre-leased space at the two-building campus.
---
The best project spotlights submitted are featured in the latest print issue of AZRE under the "New to Market" section.   
All you need to do is fill out and submit a "Project Spotlight Form" along with at least one photo or rendering of the project and send the form to Steve Burks.   
The form includes the following:   
Project Name  
Developer  
General Contractor  
Architect  
Location & City (major crossroads/exact address)  
Size (SF)  
Brokerage Firm  
Value $  
Estimated start and completion dates (by month or quarter)  
Subcontractors  
Project Description (50-100 words)