Buying a home is no small task, but it helps to know where to find the best deal. Though home prices are on the rise throughout the country, there are affordable areas still out there—you just need to know where to look.  We've put together a list of the 10 best cities to buy a house right now to help you find cities with competitively priced homes and ample opportunities for exploring.
Here's our list of the best cities to buy a house right now. Let the home search begin!
---
READ MORE: Top 5 Valley cities for home price per square foot
---
10. Miami, Florida
Miami is one of the best cities to buy a house in if you're looking for fun things to do in an electrifying and diverse city. The median sales price in Miami is $410,000, making it more expensive than other areas on this list, but it's still reasonable when considering all that this dynamic city has to offer.
What's great about living and owning a home in Miami is that there are countless areas to explore right from your doorstep. They don't call it Magic City for no reason. Head to South Beach for some of the best food in the city, stroll through Vizcaya Gardens, and shop along famous Lincoln Road. Don't forget Miami Beach is just around the corner.
9. Springfield, Oregon
Though Portland is Oregon's hot town for new residents and tourists, Springfield's affordability makes it a desirable place to buy a house. Located just outside of Eugene (about two hours south of Portland), Springfield is a great place to live for those looking for affordable housing, easy access to outdoor adventures, and an exciting nearby city to explore. Springfield is one of the cheapest cities to buy a house in Oregon, with median home prices coming in at just under $400,000.
Once you get settled in your new digs, check out Eugene's Saturday Market, a popular activity that's been held in the town for 50 years. Then, sip your way along a wine trail through nearby Willamette Valley. Cheers!
8. Hilo, Hawaii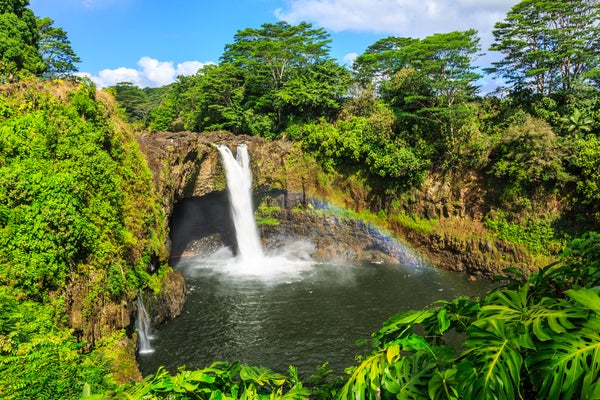 If you're ready to make the move to a tropical paradise, consider trekking across the Pacific and moving to Hawaii. The state has very low property taxes compared to the rest of the nation, making it one of the best states to buy a house. Hawaii's home prices are largely driven by locals who need affordable homes paired with tourism that allows developers to create areas with higher-priced properties. But where can you find your spot in this sun-drenched state that doesn't cost a pretty penny?
If a move to Hawaii makes sense for your situation, consider Hilo, the largest city on the Big Island. In Hilo, median home prices are around $400,000, much lower than Hawaii's median list price of more than $700,000. And though the cost of living in Hawaii is notoriously high, at least you'll be minutes from a quick swim in the Pacific and the wild beauty of Hawai'i Volcanoes National Park.
7. Fountain, Colorado
So, you want to live in the mountains but can't quite afford Denver real estate? We've got you covered. Head southeast to Fountain, Colorado Springs's more affordable suburb city. With a median home listing price of $365,000, this is one of the higher-cost cities on our list. We've included Fountain in this list because you'll have the opportunity to live near the mountains and experience all that the great state of Colorado can offer—all with a lower down payment. When you factor in property tax, Colorado is one of the best states to buy a house because it has one of the lowest property tax rates in the country.
Fountain is an adventure sports haven, with plenty of trails for mountain biking, hiking, and running, and famous spots like Garden of the Gods and Pikes Peak aren't far away. In Fountain, you'll get a small-town feel near a big city. Some people might call that a win–win.
6. El Mirage, Arizona
Arizona is one of the best places to buy a home because it has that dry desert air, big cities, job opportunities, and outdoor activities. You'll just need to be willing to put up with the heat.
The metropolitan area of Phoenix—also known as "The Valley"—is one of the most popular places in Arizona, with more than 4 million people living there. It's consistently been one of the fastest-growing metro areas in the U.S., and that growth shows no signs of stopping.
Take advantage of that big-city growth in a smaller suburb like El Mirage. Median home prices in this desert community are about $330,000, making it a very affordable place to buy a home. If you're moving here for a job opportunity, you'll only be about a 30-minute drive from downtown Phoenix. Easy commute plus low housing costs? We like the sound of that.
5. Iowa City, Iowa
According to Realtor.com, Iowa City is one of the best places to buy a house in the USA if you are a first-time home buyer. Tucked in the eastern part of the state, Iowa City is a great place for first-time home buyers because of its affordable home prices, a high proportion of home listings (so less potential for bidding wars), and young residents.
Iowa City's population has increased by about 10% since 2010, but it remains affordable for residents, with a median home sale price of $285,000. If you're looking for one of the cheapest places to buy a house, this is it. Just be sure to read our advice before buying a home if this is your first time going through the process.
4. St. Paul, Minnesota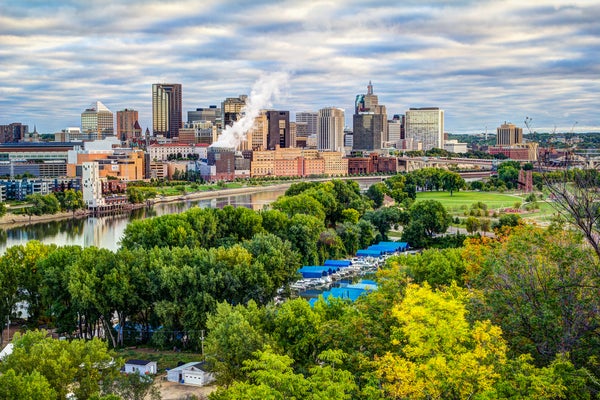 Minnesota has some very affordable cities to live in, and its ranked as one of the best places in America for raising a family, with high marks for health and safety, education and child care, and overall affordability. So if you have a couple of kids in tow, Minnesota might be the state to settle in.
We explored home prices throughout the great state of Minnesota, and St. Paul has competitive median house prices at $270,000, lower than other big cities in the Land of 10,000 Lakes. The only downside might be that houses are on the market for only 12 days on average, according to Redfin. Right now might be the best time to buy a house in St. Paul, before home prices get more expensive.
When you arrive, you'll have plenty to do. Check out Minnehaha Falls, attend one of the many outdoor music festivals throughout the summer, and kayak along portions of the Mississippi River. You and your family will be glad you invested in this capital city.
3. San Antonio, Texas
Living in Texas definitely has its perks: delicious BBQ, no income tax, and fantastic country music. One of the best places to buy a home right now is in San Antonio. With historical sites, cultural activities, and the famous River Walk, it's no wonder that more than 1.5 million residents call San Antonio home.
If you move to this great city in the Lone Star State, you'll enjoy summer temps of around 90 degrees, a great public school system, and ample job opportunities, with large employers like USAA, TaskUs, and H-E-B based in San Antonio. It's no wonder that San Antonio is one of America's fastest-growing cities.
But with a 16% population growth since 2010 and a hot real estate market, consider buying a house here sooner than later. Median home prices are around $270,000, about $100,000 less than the national median home price, and trending upward. So put on your cowboy boots and get to San Antonio!
2. Palm Coast, Florida
Palm Coast is the perfect place to live if you are looking for a quiet and affordable town. Palm Coast is one of the most affordable cities to live in on our list because of its low cost of living (9% less than the national average) and median home price of around $260,000. With a low price tag, it may be easier to buy a home here if you have student loans, as your down payment won't need to be as high as in other areas in the U.S. Though you'll pay property tax on your new home, Florida doesn't impose income tax—a huge perk when considering where to buy a home and look for a new job.
This beach town boasts a gorgeous coastline and plenty of options for the outdoorsy types, from Mala Compra Trail to Washington Oaks Garden State Park. Palm Coast is smack dab between two metro areas, Jacksonville and Orlando, so when you need your big-city fix, it won't take long to get there.
1. Baltimore, Maryland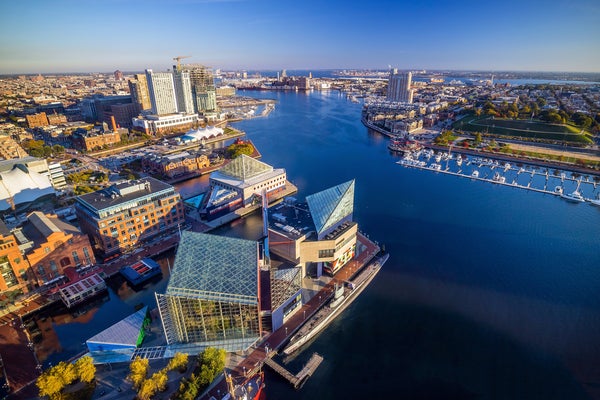 The cheapest place to buy a house on our list is Baltimore, home to Lexington Market, the stunning Inner Harbor, and unforgettable crab cakes. With a median home list price of around $230,000, you may get more bang for your buck here compared to other big cities in the U.S.
With its proximity to Washington, D.C., Baltimore is a hot spot for people moving for government, finance, and biotech jobs, so plenty of opportunities are here. In fact, the city's job market index is 7.7 out of 10, meaning it's healthy and growing. So if cold winters and East Coast living are your thing, make sure to add Baltimore to your list.
Final Thoughts
Choosing where to buy a house isn't easy, especially if it's a seller's market. But if you're willing to look into inexpensive areas and have some flexibility with your job, picking the perfect spot can become a fun adventure. Your decision will be largely subjective based on your family's needs, your financial situation, and where you think you'll be most comfortable living. Make your decision a little easier with this list of the best places to buy a house, familiarizing yourself with each area and its real estate market trends. When you finally close on your dream home, use our homeowner's checklist to help with the big move.
Wherever you end up, protect your new home with an American Home Shield® home service plan that covers up to 23 important appliances and home systems. Find a home warranty in your state to keep your household and your budget covered.