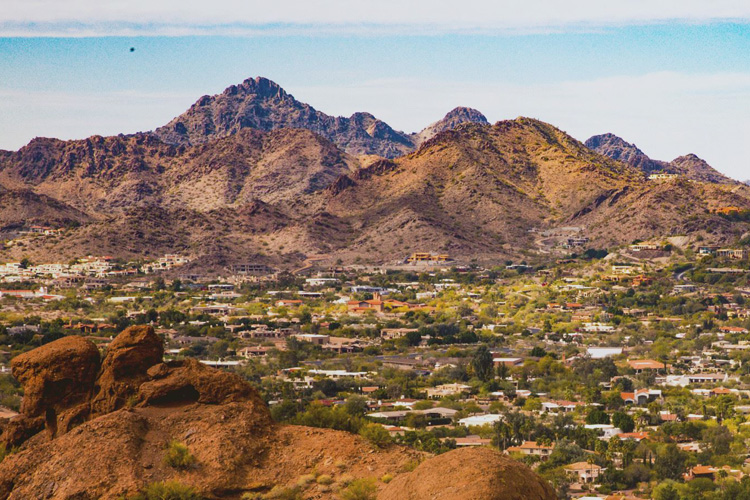 According to statistics, Arizona is the third-most-popular inbound state when it came to moving in 2019. That means Arizona was one of the most popular places to move to in 2019.
Arizona is known for being a popular state to move to after retirement, but there are still plenty of families that also call Arizona home. Those living in Arizona get to experience natural beauty, great weather, and plenty of entertainment.
However, no matter if you're planning on moving to Arizona from another state or if you already live in Arizona, there are certain factors you'll want to consider before buying a house in Arizona.
Keep the following in mind if owning real estate in Arizona is on your mind.
Arizona temperatures will vary
Arizona is known for great weather, but don't expect it to be hot all the time. Individuals that are looking for warm or hot weather all year long should consider moving to Florida.
Arizona, on the other hand, does experience some variation. While you can expect sunny days all year long, summers are hot and winters are mild. There are even parts of Arizona that get snowfall in the winter. You should also be prepared for low humidity all year long.
Keep in mind that Arizona has a monsoon season, which starts in June and ends in September. However, Arizona still doesn't get as much rain as Florida does in the summertime.
Do your research on locations
When people think of moving to Arizona, some of the first places that come to mind are Phoenix or Tucson. However, there are plenty of other smaller cities and towns you can consider.
Think about whether you would be happy living in a large urban area or if you would prefer a small-town vibe. Some people prefer to live in Phoenix for work purposes, but you can also live in a nearby town and commute to Phoenix for work.
You'll find a mix of retirement communities and family communities throughout the state. Beyond Phoenix and Tucson, other places you might want to consider include Scottsdale, Chandler, Glendale, and Litchfield Park.
Take a look at the entertainment
There is plenty to do in Arizona, which is perfect for those that like getting out of the house. There really is something for everyone to do, regardless of age and interests.
For folks that like spending time outside, there are plenty of locations to hike and explore, including the Grand Canyon. And despite Arizona's barren atmosphere, it has an active art scene. From museums to live performances, there are plenty of entertainment opportunities.
And if you enjoy swimming, there are plenty of public facilities to enjoy. Backyard pools are also common. While it is possible to enjoy swimming all year long in some parts of the state, other parts of the state might be too chilly.
Know what the housing market looks like
Familiarize yourself with Arizona's housing market. It is believed that there will be a steady improvement to the market in 2020, despite a rise in interest rates. If you're thinking about moving to Arizona, 2020 could be the year to do so.
One of the factors impacting the housing market is the construction trade. There is a need for skilled labor workers, especially as the construction industry continues to grow. This is creating quality jobs for individuals without college degrees.
Arizona has reasonably priced housing and a growing economy, which is good for individuals considering moving there. Keeping an eye on the housing market is always recommended, in case there are any changes.
Have an idea of what you want
Know what type of house you're looking for before you start talking to a realtor. House styles will vary depending on location. Contemporary homes with neutral color palettes, mid-century homes with open floor plans, Spanish Mission homes with stucco, and Mediterranean style homes with red-tile roofs are just some of the styles you can expect.
You'll find that most Arizona homes are made of stucco, have tiled roofs, and lack basements. Exterior colors are typically neutral or warm.
In addition to house style, think about logistics such as how many bedrooms you need and how many bathrooms. Keep in mind that you won't have a basement for extra storage or living space.
Keep your finances in mind
Anytime you're considering buying a house (regardless of whether or not it is in Arizona), you need to keep your finances in mind. Some cities in Arizona are more affordable than others, which could ultimately impact where you end up living.
Know the difference between the various types of home loans and how much you'll need to provide a down payment. Mortgages are considered installment loans, which means you'll need to be prepared for monthly payments until the loan is paid off.
Also, it is helpful to have an emergency fund built-up before you move in. This money is helpful if you need to make repairs after you move in.
Think about cons as well
Arizona certainly has its perks, but you should also be realistic about cons before deciding to settle.
Arizona isn't for folks that want lush environments with green lawns. Much of Arizona is barren. You'll likely have sand, palm trees, and cacti in your lawn instead of grass and flowers. While there are forests in the northern part of the state, Arizona is mostly desert.
Something else to consider is that you will either need your own car or have to live in a city where public transportation is available. Arizona cities aren't very walkable. If you like walking to work or to the store, do your research before choosing Arizona.
Final thoughts
From a growing economy, great housing marketing, plenty of entertainment, and beautiful weather, there are many reasons why you might want to call Arizona home.
As with any time you're considering buying a house, you need to thoroughly think through your decision. Houses come with many responsibilities. If you have any doubts about buying in Arizona, you should consider renting as an alternative.